Before Cory finished up at Ross and moved back to the US, we went out to enjoy one last dinner together on the island. Cory chose Ciao, as it is one of our favorites, and we hadn't been there in awhile.
We sat down at our table and had just begun looking at the menus when we were approached by another customer in the restaurant...he had been sitting at a table with three other people just across from us. As he approached, I wondered if one of us maybe had something stuck to our shoe, and he was being nice and letting us know. I wondered what other reason he would be coming over to our table, but I never expected the real reason...................
He recognized us from our blog!!!! How cool is that? He and his wife had been here once before, and they were back for their friends' wedding at the Marriott. So in searching online for new things to do this time around, they found Krista's Rockstar blog, which eventually led them to ours.
Of course, you know I just had to take a picture with them....I was too excited not to!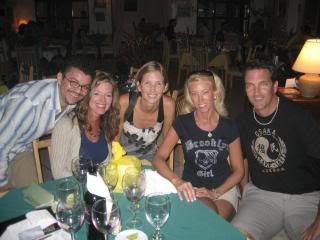 So, this is a shout out to Rich, Lori, Amy and Chuck. Thanks for making us feel famous, even if just for a moment!
And Lori & Rich, congratulations on your wedding! We hope it was beautiful!