Once again, we celebrated Halloween on St. Kitts, and as always, coming up with costumes on an island that doesn't celebrate Halloween poses its challenges. But everyone did a great job this year, and I was especially surprised with the awesome and very creative group costumes that were put together.
The Halloween Party was held at the Pink Elephant. I didn't really have any plans for a costume, but ended up getting something together at the last minute...Cory and I have been watching the show True Blood on HBO, so I went as the main character Sookie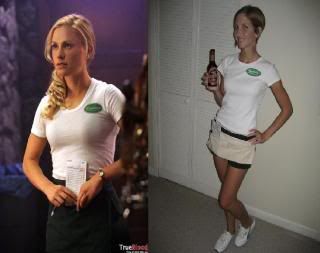 I even made a bottle of "True Blood" to carry around...
Cory was part of a group that went as the characters from the video game Street Fighter....Cory was Ken.
Ha ha, and Cory definitely got into character
And of course, if Ken throws fireballs, Cory has to as well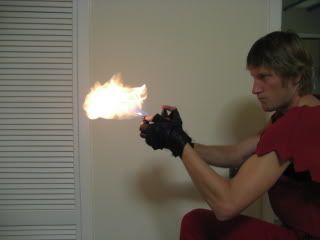 Here we are getting ready for the party...the girls of Street Fighter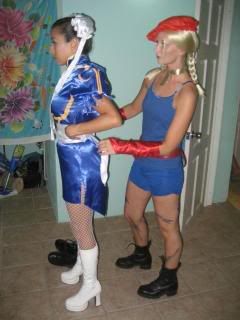 Jen, Lauren and Jeff were a Jerry Springer family. Lauren's skirt was so tight that they all had to help her get it on!
Here they are all set to go and in full character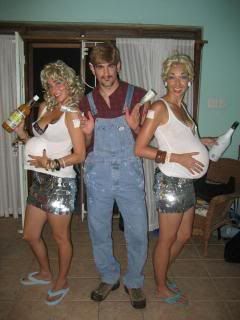 Here is Jessica's husband Jose...he made an awesome Cpt. Jack Sparrow!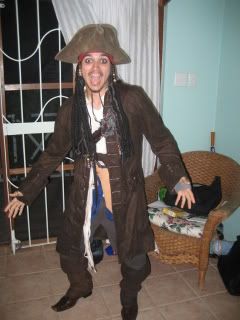 Jeff and Teresa were...Hawaiian tourists?
Brooke and Jill were hilarious (but kind of scary) trolls!
Anne-Marie was a mermaid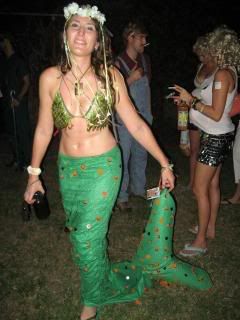 More Street Fighters together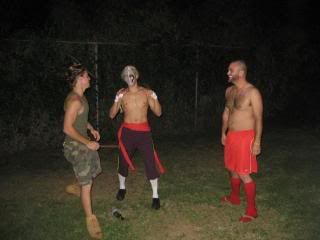 Trying to shoot flames at each other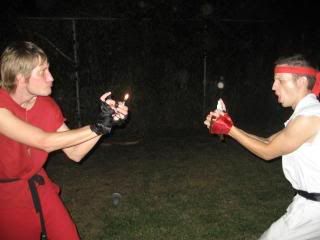 One of my favorite costumes of the night...Kirsten is a first semester student, and she came as a Transformer...it was awesome!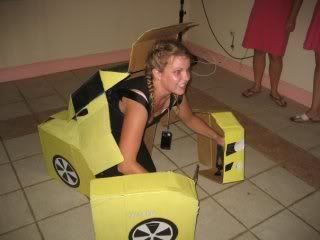 And now some of the other amazing group costumes that were put together. Unfortunately I don't know who all of the people are in these pictures, but I just had to applaud their creativity!
The Ghostbusters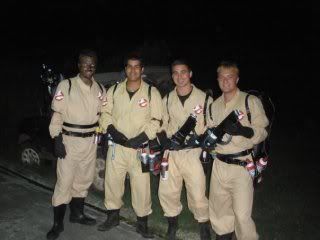 And the Stay-Puffed Marshmallow Man!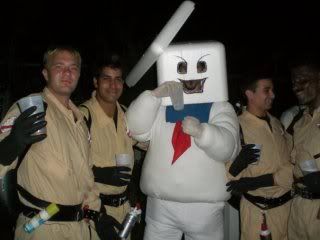 All of the characters from Alice in Wonderland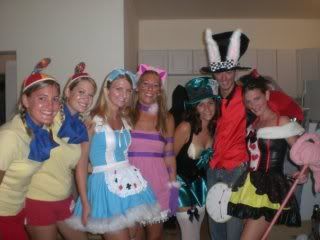 Captain Planet and the Planeteers
Every Batman villian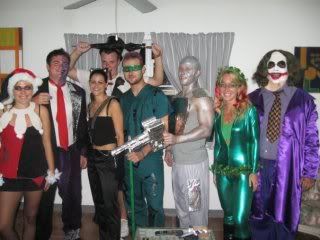 And the Batman good guys mixed in with the villians
The Teenage Mutant Ninja Turtles, complete with Shredder and Splinter
Seriously, those are some great costumes! Wish I could be around next year to see what new ideas people come up with!