Brad wasn't the only one who left at the end of last semester...our adorable kitty Lladra had to move back to the US as well. For my job with Ross, I am required to live in the residence halls, but pets are not allowed here, so we were told she had to go. They let us keep her for Cory's 3rd semester in our on campus apartment because we couldn't find anywhere for her to go on such late notice. But Cory's brother Brett, his wife Jana and their daughter Reilly were nice enough to offer her a home until we move back to the US, so she left at the end of the semester to live in Minnesota.
The afternoon before her flight, we took her for a walk on her leash around the residence halls so she could get one last exploration of St. Kitts in before the long plane ride home.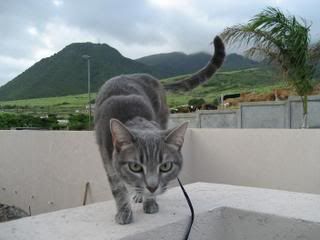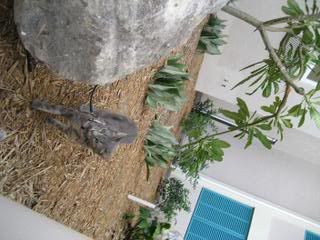 She even got to see cows for the first time ever during her walk....she was a little unsure of them, but the cows seemed pretty interested in her!
We miss her and her funny ways already!