The Pink Elephant is one of the larger houses for rent on the island, and is considered one of the party houses (where semester fundraisers are typically held). And it just so happens that all of our friends (and their many pets) are now living there. Bill and Scott live on one side (with Winnie, Lui and Abigail) , and Justin and Jon are on the other side (with Otis and Nyxxie). They had a big 4th of July BBQ at their house to hang out and talk about the theme for the end of semester party that their semester (6th) is in charge of organizing.
Jen J. brought along her new puppy Annabelle...here is Jen D. introducing her to the crew
Me and Krista inside getting some yummy drinks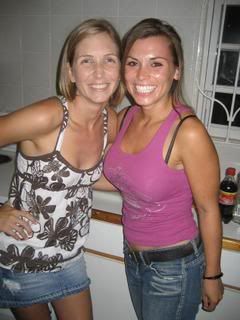 The group discussed possible themes for the party...but with such a big group of people wanting to input their ideas, they decided that whoever held the pink elephant could speak. Here is Bill taking his turn...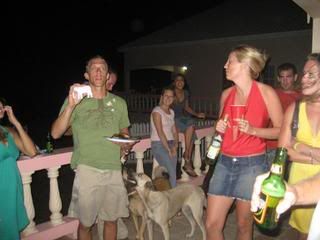 And here is Jessica, enforcing the rule...she looks pretty serious about it! :-)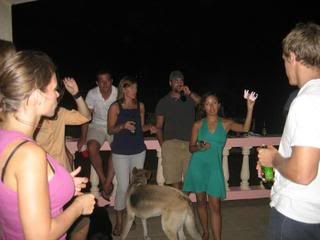 .....and the theme is.....Heaven and Hell! Since the house is split into identical halves, with the backyard split in two with a small fence as well, one side will be for the angels, and the other side for the devils! Can't wait!
And then it was time for flip cup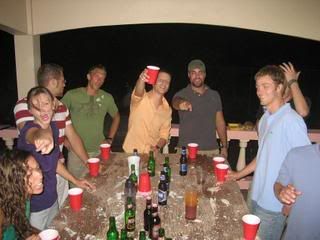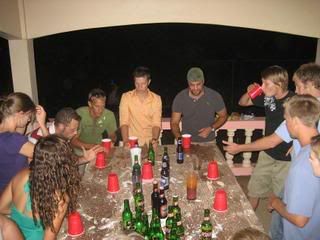 After the BBQ, everyone headed over to De Lime bar to watch fireworks and hang out at the 4th of July party. Bill was going to ride along with me and Cory, and we were the last ones to leave the house. We were about to leave when I accidentally locked the wrong lock on Bill's front door....the one lock that they don't have a key for....so basically I locked him out of his house. It is a long story, and it took about an hour of reaching in through windows with long tree branches and angry midnight voicemail messages to his landlord by Cory about why Bill wasn't given that key before we were able to eventually break in. Thank goodness!
The party at De Lime was alright...by the time we got there we had missed the fireworks anyway. And the night ended as typical nights do at the beach...helping someone get their car out of the sand...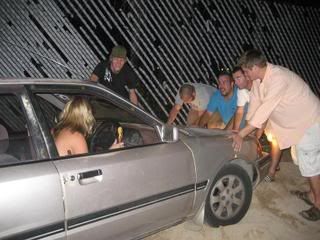 Happy belated 4th of July!