Just a warning, this post is going to be very long! I took about 500 pictures on this trip, and I always have trouble narrowing down the ones to use on the blog....
This past weekend, November 27th through November 30th, the three of us (Keith, Treg and myself) in the Campus Living Department at Ross took a work trip to the island of Dominica. While the Ross Veterinary School is on St. Kitts, the Ross Medical School is on Dominica, and since we didn't know much about their campus or island, we thought it would be a good experience to meet their housing team and learn more about how they work with their students in regards to housing and orientation.
Flying to Dominica
Of course, even when the islands are close by, you can't get anywhere without a layover somewhere! We took off from St. Kitts on Thanksgiving morning and had a 15 minute flight to Antigua...here is Antigua as we flew over
Then from Antigua, we had a 40 minute flight to Dominica. On the way, we passed over a beautiful island named Guadeloupe.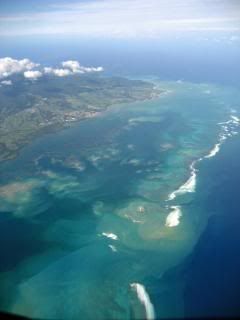 Finally we reached Dominica, and we were surprised at how lush and undeveloped the island was. Before we left, we were told that if Christopher Columbus could come back today and see all of the islands he discovered in 1493, the only one he would still recognize would be Dominica.
Then the airport appeared out of nowhere; a tiny strip with no lights, surrounded by the rainforest...it was pretty fun landing there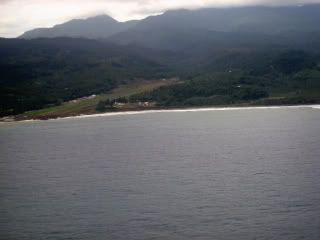 Ross
The first night there, we stayed in the guest apartments in the student housing at Ross. The next morning, we walked from housing down to the beach and had breakfast with an amazing view. The beach in front of the Medical School sure beats the Vet School's rocky shoreline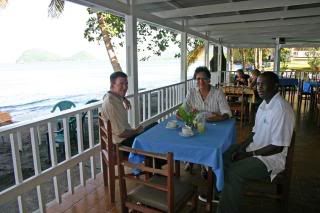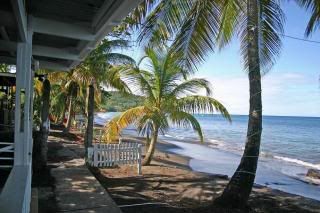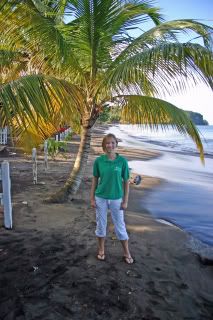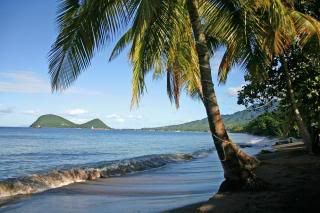 Portsmouth
The Ross Medical School campus is located in the town of Portsmouth, the second largest town on the island, after the capital city Roseau. I really enjoyed Portsmouth, it seemed like a nice area, and a bit more quiet than the capital.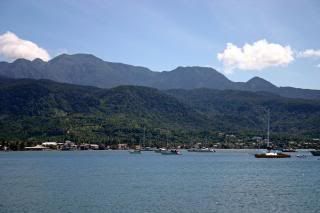 Like most seaside towns in the Caribbean, they had lots of small fishing boats by the water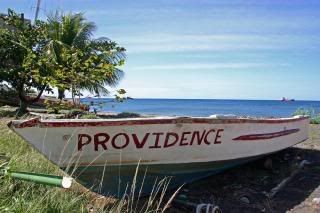 But they also had lots of old boats that were washed up onto shore for various reasons and left there
We had a huge lunch at a very cute little restaurant in Portsmouth with Francisca, the Director of Housing for the Medical School
Cabrits National Park
We also visited the Cabrits National Park, a protected area that includes the surrounding rainforest and the coral reefs around the point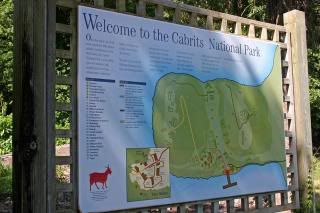 The Dominica flag has the Sisserou parrot on it, which is the island's national bird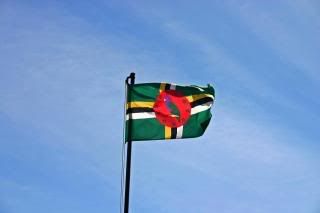 Located in Cabrits is Fort Shirley, similar to Brimstone Hill in St. Kitts, but a bit smaller.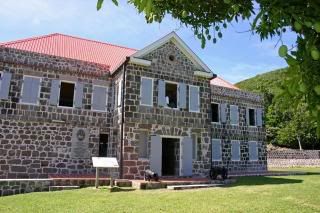 I love pictures of windows on old buildings like this, especially in the Caribbean where they build with stone and have the old wood shutters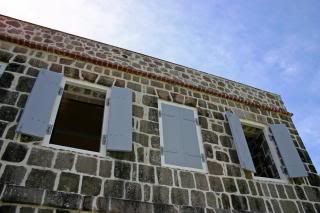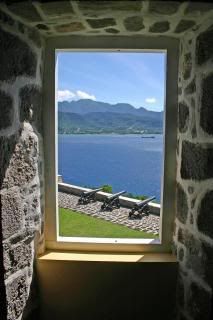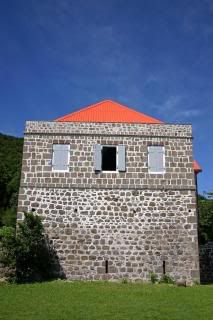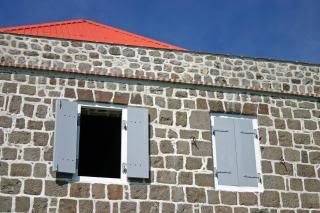 Just like at Brimstone Hill, Fort Shirley had cannons facing out towards the bay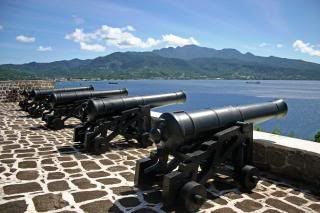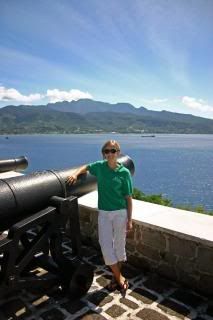 I've taken this same picture at Brimstone, and it ended up being on of my favorites, so I thought I would give it a try here
Campus Living team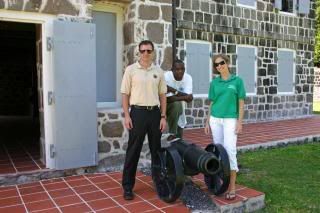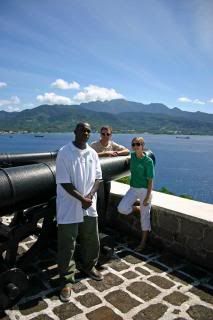 The capital, Roseau
After our time in Portsmouth, we moved out of the guest housing at Ross and into a great hotel in Roseau called the Fort Young Hotel, about an hour drive away. This hotel was built around an old fort, and was right on the water next to where the cruise ships come in.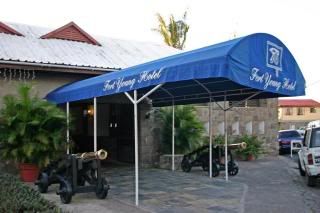 I liked the cannons at the entrance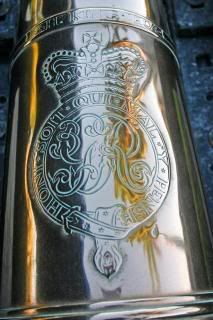 We couldn't have asked for nicer rooms...here are the views from my balcony, looking left, straight, and right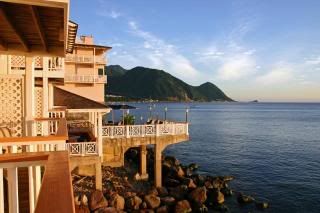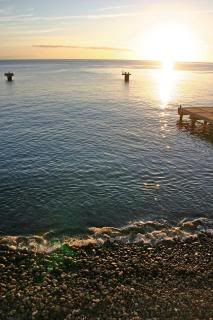 It was so nice listening to the waves crashing on the rocks at night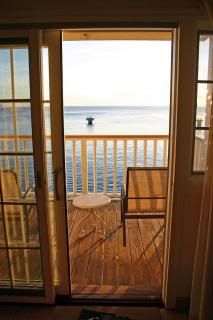 The hotel had an awesome infinity pool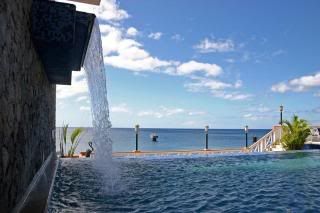 We went down to the hotel's pier to enjoy the sunset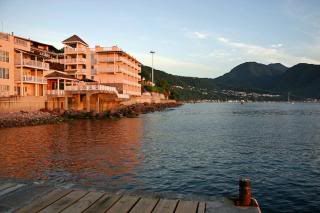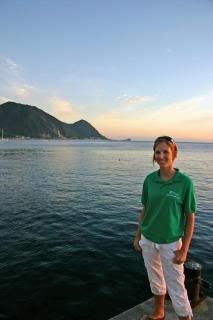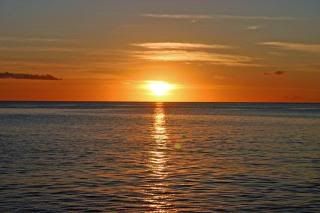 The green moss growing on the rocks in front of our hotel made for a beautiful picture when the sun was setting the first night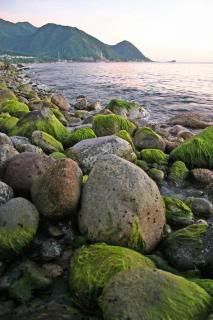 Climbing down to the rocks to get those pictures, I found the cutest little lizard who was doing a very good job of blending in with his surroundings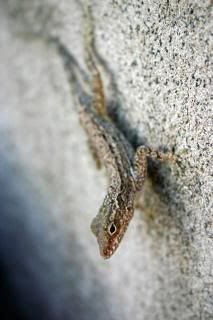 Roseau has a great farmer's market on Saturday mornings, so Treg and I walked there from our hotel and explored a bit. The market was huge, and it was so nice, no one bothered or pressured us to buy anything, it was very relaxed.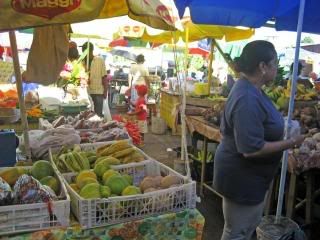 This nice woman was selling the most beautiful flowers, so I just had to buy some. These 4 giant flowers were $2 EC, or about 75 cents US
And the flowers looked so nice on my balcony!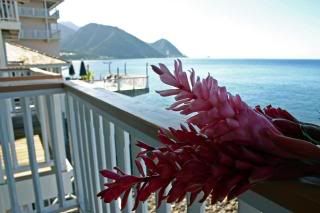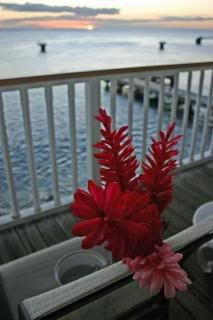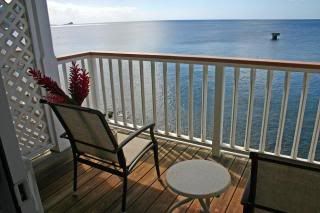 Island Tour
On Saturday, which was our free day, Barbara and Francisca from Ross came to pick us up and take us on a mini island tour (the island is huge, and it would take much longer to see the entire thing). While St. Kitts is 68 square miles, Dominica is 289.5 square miles. Some fun facts we learned:
- The island has 365 rivers and over 10 large waterfalls
- The island has around 7 volcanos
- It is home to the world's second-largest boiling lake, and has many hot sulfur springs
- Pirates of the Caribbean 2 and 3 were filmed there!
And here is another cool thing I found on the island...this plant, nicknamed a "sensitive plant", will fold its leaves closed when touched. Check it out:
Scott's Head and Soufriere
First we headed out to the south-western tip of the island, to a peninsula called Scott's Head, where the Caribbean was on our left and the Atlantic was on our right.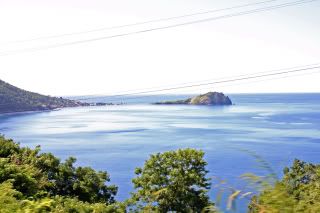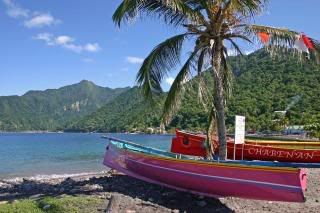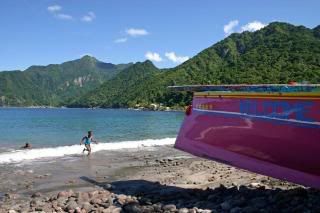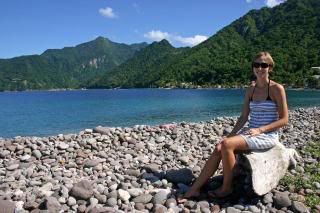 To get to Scott's Head, we had to pass through the village of Soufriere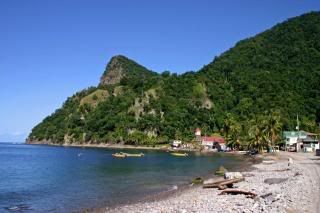 The village had some very hot sulfur springs right at the edge of the sea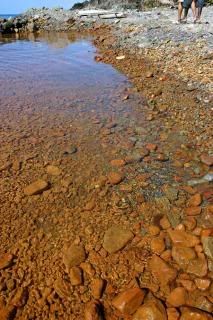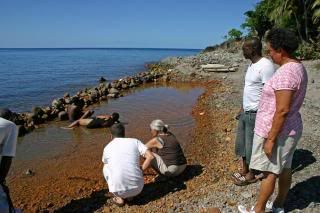 There was also a very old Catholic Church in the village as well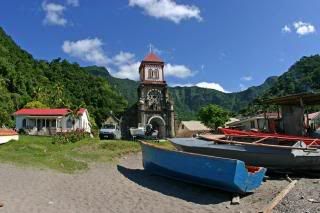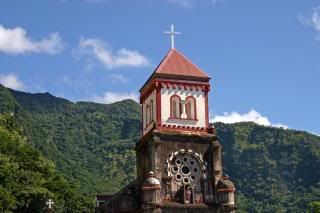 The local fishermen were cutting and cleaning the marlin they had just caught. As we were leaving, one of them blew on a conch shell to announce to the village that fresh fish was available for purchase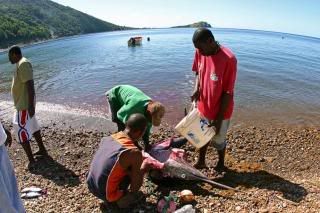 Champagne Bay
After leaving Soufriere, we snorkeled at one of the most popular spots on the island, called Champagne.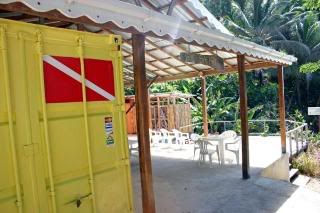 It gets its name from tiny bubbles that continuously rise from small volcanic geothermal fissures in the sea floor; hence, it is like swimming in a glass of champagne. Since the beach is really just rocks and no sand, there was a long walkway to use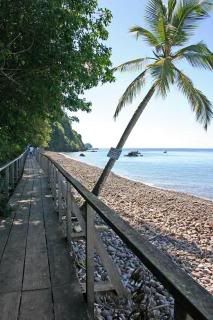 I was so jealous...a dive boat was out there taking people out for what was probably a cool dive to see the bubbles deeper down
Tiny bubbles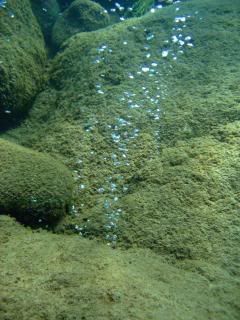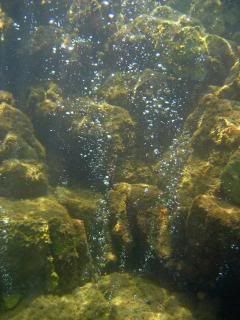 It is always so awkward trying to pose while snorkeling!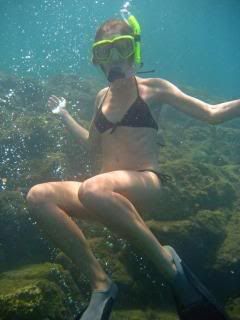 We also saw a bunch of fish and barracuda, lots of sea anenomes and some Caribbean Reef squid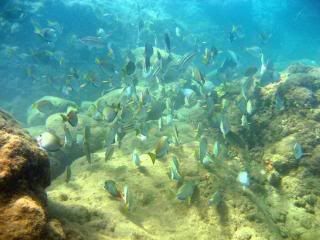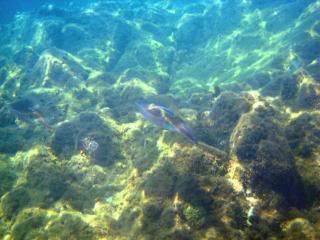 After snorkeling, we stopped at a quick lookout over the capital of Roseau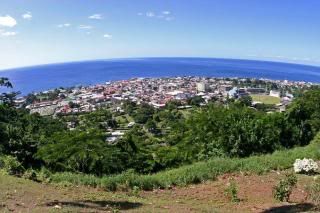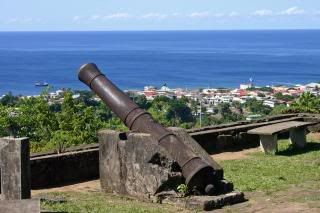 Fresh Water Lake
Next, we took a long, winding drive through the rainforest and up to a volcanic crater that had a fresh water lake
It was beautiful, but very cold up there!
I noticed lichen growing on the rocks next to the lake, and we saw so many types of ferns everywhere around the lake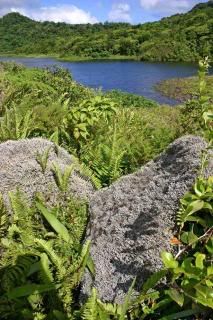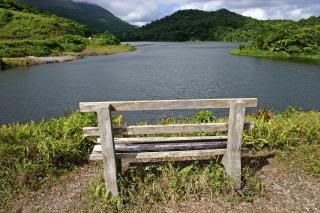 You could also follow a path through some dense vegetation that led up to a viewpoint over the lake
What a great view!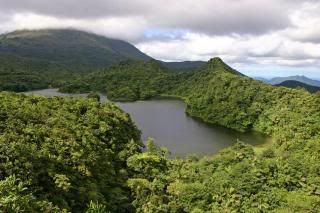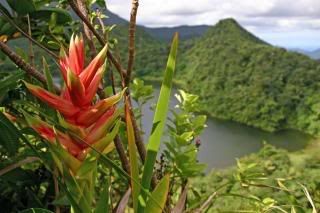 Hiking back down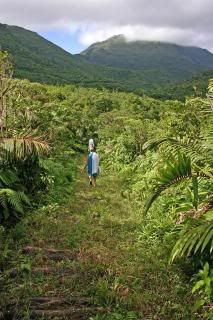 Trafalgar Falls
After a picnic lunch at the lake, we headed over to Trafalgar Falls, which is two large waterfalls in close proximity to each other. It was just a short "hike" from the parking lot to the falls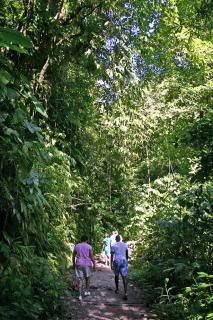 The larger one is nicknamed Mama Falls...
And the smaller one is Papa Falls
Both falls together
There was a nice viewing platform where you could look out at both....they look small in this picture, but they were huge!
We hiked down past the platform, and past the sign that said "Proceed beyond this point at your own risk"
There were lovely little hot springs further down that a few people were already enjoying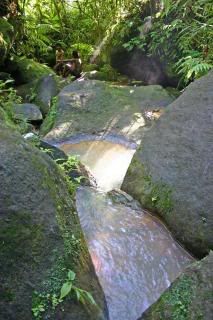 I would have liked to try and get closer to the falls, but we didn't have much time to stay. Maybe Cory and I can do this when we go back in January.
Screws Sulfur Spa
Our last activity was one of my favorite parts of the trip...it was called Screws Sulfur Spa. The owner built these amazing pools to hold the warm water that comes from the nearby hot springs.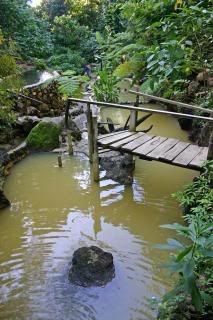 Each one had a different temperature, as he added cold water to some to make them more mild, and kept some really hot
Warm water being added to one of the springs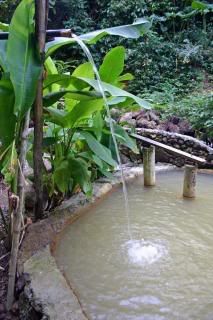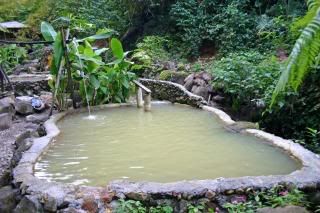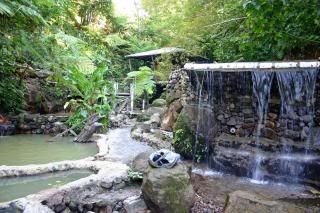 It was so nice and relaxing, we did not want to get out!
The entire place was surrounded by rainforest
Then to top it all off, you go back up to the top, and the owner is waiting for you with fresh fruit (I didn't take this picture, but this is what it was like....except that when we were there, he was wearing a shirt...)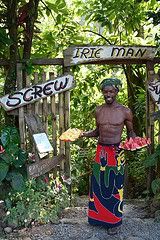 Back to St. Kitts on Sunday
Getting on our tiny plane to leave the tiny Dominica airport (I almost got in trouble for taking this picture...apparently cameras are not allowed at the Dominica airport!)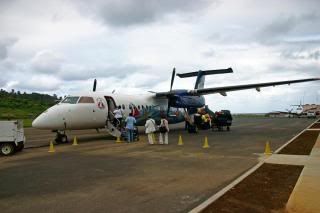 Cruise ship leaving Antigua as we fly over...yep, had to land on Antigua again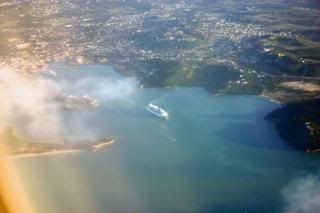 Now we must be on our way to St. Kitts....what? We have to land on Nevis first? Great. Hello Nevis, here we come!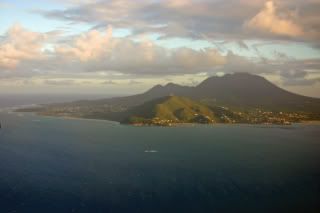 Flying over Booby Island (in between St. Kitts and Nevis) as we prepare to land on Nevis. I'm not kidding, that is its name.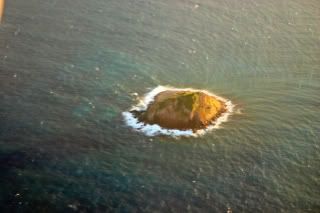 Amazing sunset over the southeast peninsula of St. Kitts, welcoming us back home