Some staff from the Ross New Jersey office came down to visit St. Kitts last week, and I was the one who got to give them an island tour. It was lots of fun showing them around, and it gave me a chance to take some pictures at a few places I haven't visited in awhile.
On our way up to Romney Manor, home of the Caribelle Batik, we stopped at a little tourist spot so everyone could see a monkey up close. They all took turns getting their pictures taken with the little guy (or girl).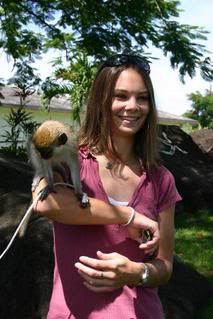 But the funniest moment was when Carey was holding the monkey. It kept running back and forth across his arms and shoulders, and at some point while he was laughing or talking, the end of the monkey's tail went right into his mouth! He was pretty grossed out, but we all thought it was hilarious! I think I got a picture right before it happened: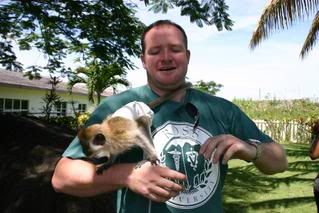 I've been to Romney Manor a few times now, but it is so pretty up there, it never really gets old.
We watched a demonstration of how the batik is made, and everyone looked around the gift shop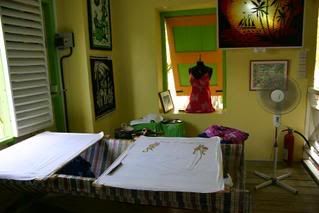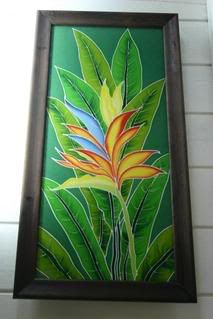 It was a beautiful day outside, but also very hot
We even found a very friendly kitty who loved our attention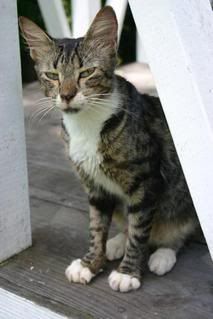 And from Romney Manor, we had a great view over to where we would be eating lunch later...Brimstone Hill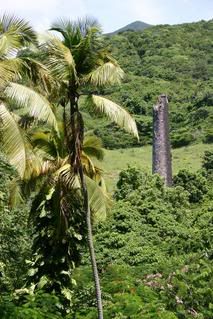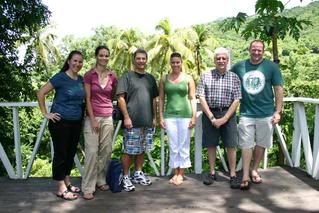 So after we were done at Romney Manor, we headed over to the Brimstone Hill Fortress for lunch. I've been there so many times, it is hard to find new pictures to take. But I had my fisheye lens with me, so I found a few new spots to try with the new lens.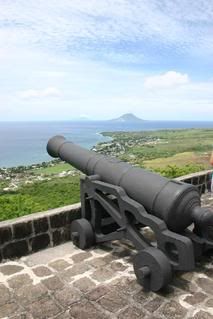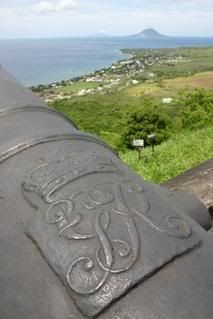 The whole group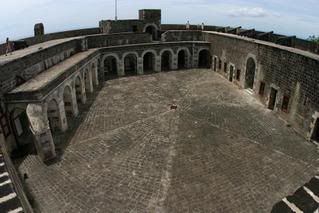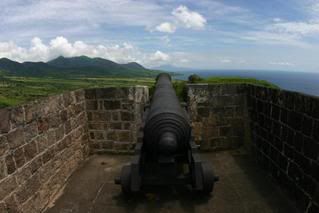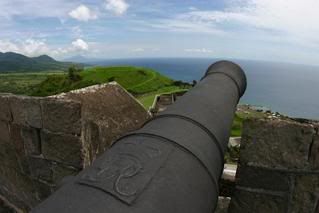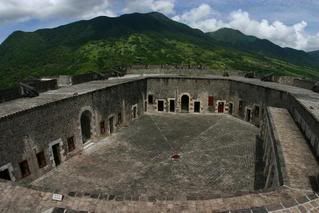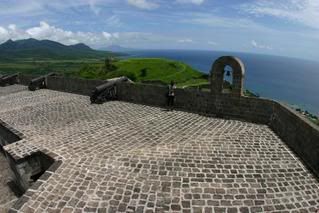 As we continued our tour around the island, we stopped a few more times. This stretch of the road is one of my favorite spots...there are coconut trees everywhere...very pretty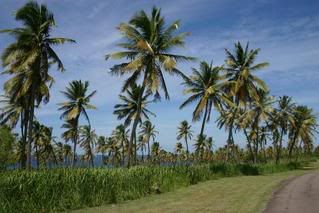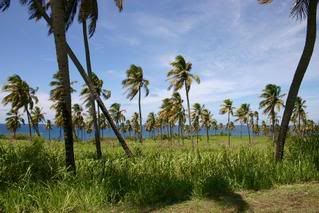 We stopped on a cliffside to look down over the Golden Lemon Resort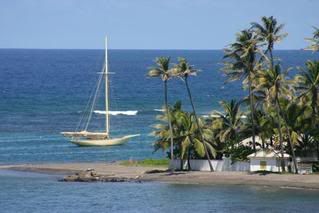 Of course we stopped at Black Rocks and visited the baby donkey that lives there
And we stopped at Ottley's Plantation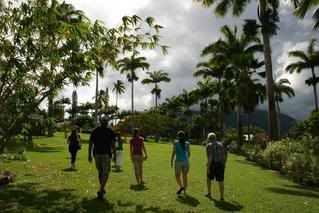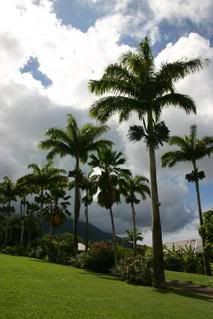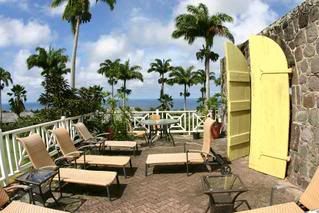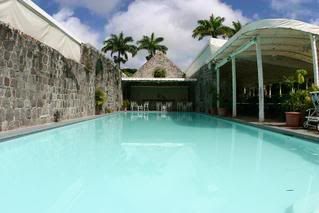 Our very last stop was at the local grocery store, so the New Jersey staff could see what is available on the island to tell prospective students.
The grocery stores here always surprise new students, as they carry most of the stuff you find in the grocery store at home in the US. The prices are comparable on most items, but there are a few things that you should never buy on St. Kitts! One of those items is sunscreen...
The price is listed in Eastern Caribbean dollars, but $58 EC is approximately $21 US....yikes!
Another item not often found in the grocery store here that I miss from home are fresh berries, like strawberries, raspberries, blackberries, etc. Sometimes they make it here, but the boat ride to the island often takes too long, or it is not properly refrigerated, and the berries arrive in not the greatest shape
These blackberries cost $18 EC, which is approximately $6.65 US, and yes, that is mold growing on the berry in the bottom corner.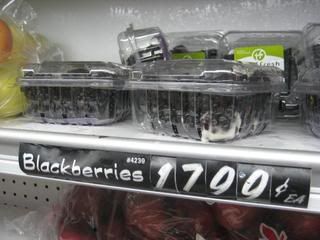 Milk is another story as well. It is delivered every Wednesday afternoon, and if you don't get to the grocery store to buy some milk before Saturday, it will most likely be sold out after that. Then you are stuck waiting for the following Wednesday afternoon before you can find some at any of the stores. We've actually gotten used to this now, but I look forward to being back in the US soon and being able to buy milk any day of the week!