Here are a few pictures I got at the Marriott before I left for home; Cory and I went there for the afternoon to have lunch and get some sun, and we almost had the entire beach to ourselves....
And now for something not so scenic...Cory and I went out to dinner the night before I left, and as we were driving through downtown, Cory suddenly noticed a huge spider crawling around on the hood of our car. Just as we notice it, it runs up onto our windshield, and starts running over towards Cory's open, driver's side window. Since I am deathly afraid of spiders, I am yelling at Cory to close his window before this thing gets in. He pushes the button, and the window is just slowly inching up, horribly slow, and my yelling is getting louder as the spider is getting closer....He finally gets the window all the way up just as the spider gets there, so he decides to just ride along on our side mirror instead.....(shudder)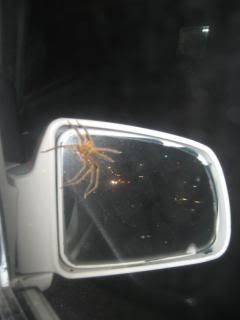 Still, at least this spider was less scary than the one we found in our apartment last semester.....all I can say is, thank goodness Cory found it before I did, because it is quite possible I would have died of a heart attack.
Don't worry, we didn't kill him. Although I very much dislike spiders, they eat a lot of bugs, including centipedes, so he was released outside to continue his pest control (by Cory of course)!