My Mom finally had the chance to come down and visit us on the island in late January. She was only here for a week, but I made sure she stayed nice and busy as we explored the island together.
One of the highlights of the week was her first time SCUBA diving in 27 years! Vajai at Kenneth's Dive Shop, who did our certification, was nice enough to meet up with us early in the week and do a refresher course with her. He made sure she remembered the important aspects of diving, and made sure she felt comfortable in the water. Once her refresher was done, he gave her the ok to dive later in the week.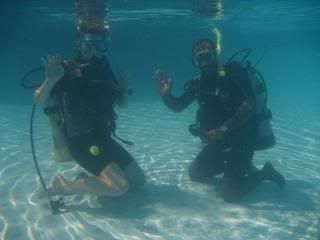 Before our day of diving arrived, I gave her a warm-up by taking her out on a snorkeling catamaran trip. We took off from downtown Basseterre, sailed along the island, and stopped to hop in the water and snorkel.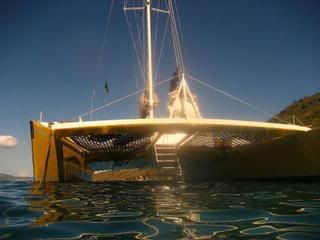 We didn't see much in the water, but we did see a pretty big fish in the process of eating another large fish!
After snorkeling, we had an amazing lunch on the boat, and we continued our trip to St. Kitt's sister island of Nevis. We were dropped off right next to the Four Seasons Resort, and mom and I explored a bit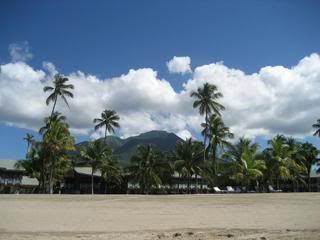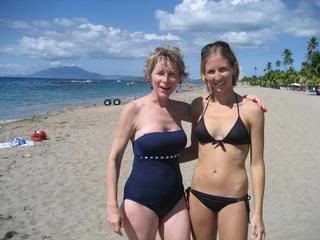 We also spent some time at Sunshines Bar and Grill, famous for their potent Killer Bee drinks.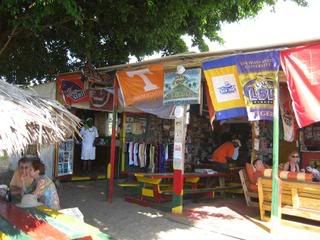 ...but we stuck to the Carib instead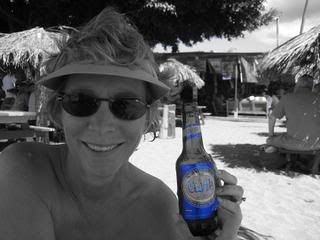 Mom really enjoyed the snorkeling we did on the catamaran, and I think it got her even more excited for the dive. The day of the big dive started out rainy, but the sun started to come out right after we jumped in the water at the first location.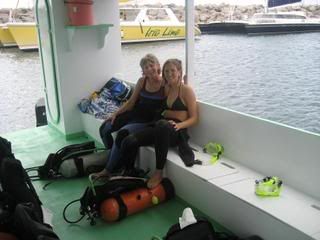 Here she is, swimming past a shipwreck as she dives for the first time in a very long time!
Once she felt comfortable, she took my camera and took most of the pictures on the dive. Here are Cory and I down there with her...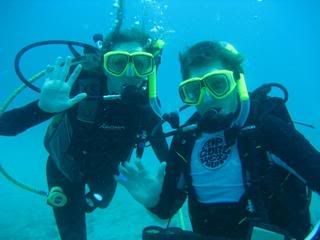 We also saw a few cool creatures:
A giant puffer fish near the River Taw shipwreck
A small eel hiding in a tire
And some cool, random fish
I think she had been a bit nervous since it had been so long since her last dive, but she ended up really enjoying herself.
Here are some highlights from the other days of activities....
We hiked to the top of the volcano:
With Royston as our guide, we hiked up the dormant volcano. Here is the road you take up to the base of the mountain and the start of the trail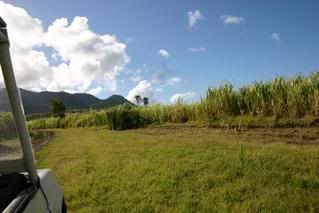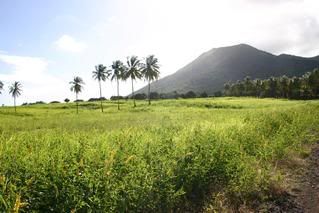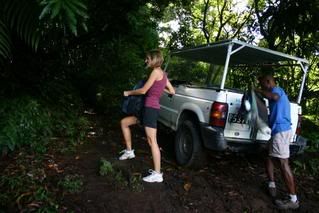 Mom liked all of the cool plants, trees and roots that you see on the way up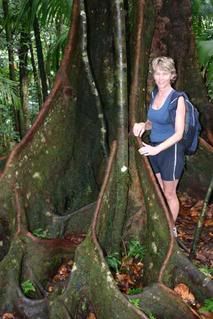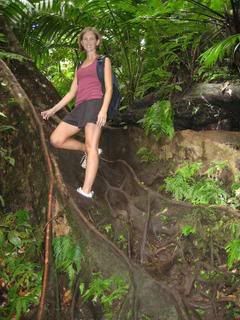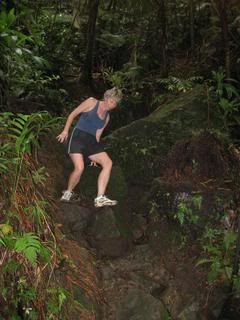 We thought this tree looked a lot like a giraffe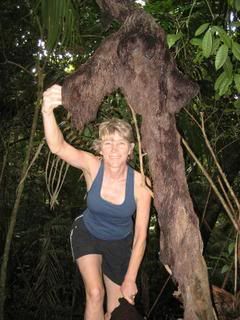 Once we made it to the top, we were rewarded with the beautiful view of the volcano's crater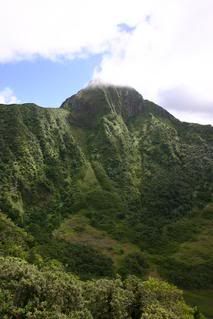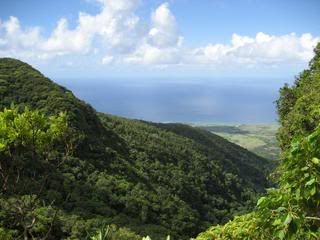 It was a beautiful day, and perfect weather for the hike. Although we got a bit wet and muddy, we had an awesome time. And Royston was a great guide, as always. After getting back down the mountin, he also drove us around the rest of the island, pointing out some great spots along the way that I hadn't had a chance to show my mom yet.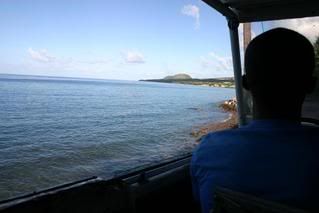 One was Black Rocks, where the beach is made of volcanic rock
He also took us past the Golden Lemon Resort, and an old sugar plantation nearby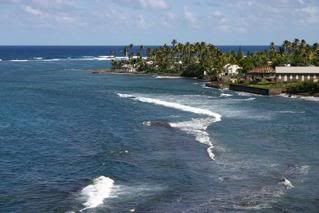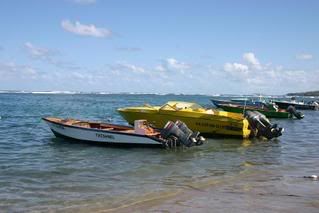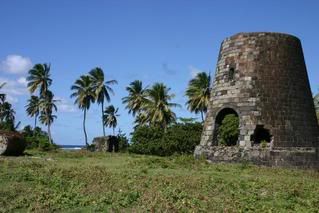 We visited Brimstone Hill Fortress:
Of course, this is a must for anyone who visits St. Kitts. Located high on top of a hill, it offers amazing views of some of St. Kitts' neighboring islands.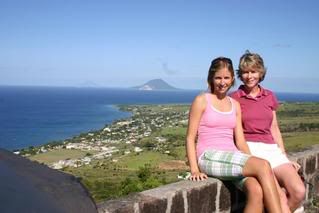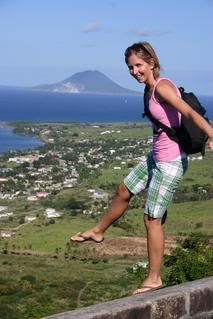 I made Mom sit on the cannon...everyone has to do it once!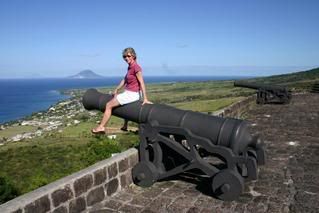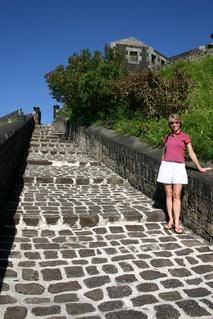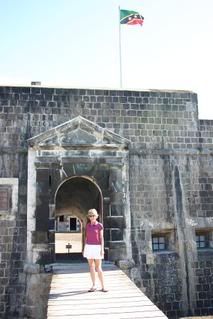 We also visited the nearby Romney Manor, which is home to Caribelle Batik:
There isn't too much to do here, but the grounds are very well maintained and nice to walk around. They also have a huge tree on the property that is over 350 years old, and it is amazing!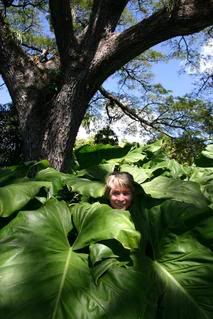 We took pictures of monkeys, and more pictures....and more pictures.....
Once mom saw some monkeys, she was hooked. She wanted to get more pictures of them, but as many people here know, they do not sit still for very long, and they avoid eye contact. It took some effort, but we devoted an entire morning to driving around the southeast peninsula looking for monkeys. Here are a few of probably around 200 monkey pictures she took: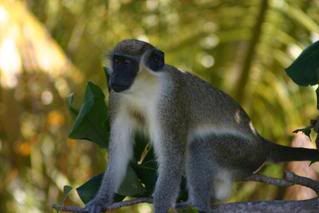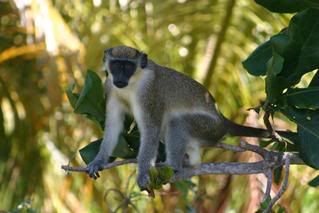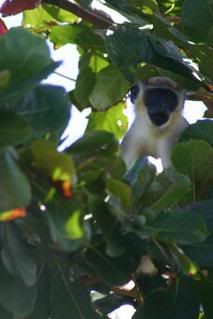 We hung out at Ziggy's for volleyball:
Mom was also nice enough to take pictures for us at our weekly beach volleyball game.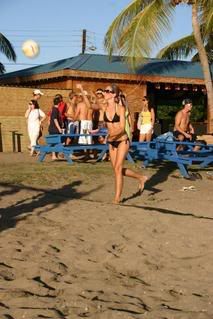 Finally, it is obvious that we took alot of pictures, but Mom got a lot of random pictures of the island that I never think to take. I have now decided that before I leave for good, I am going to give myself a couple days to just explore the island and take pictures of everything, because I will miss the little things once we are gone. Here are some of the random shots she took of the island and downtown Basseterre:
Downtown looking into the Circus
The clock in the Circus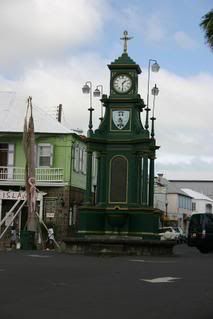 The movie theater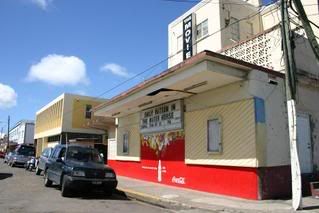 The English pub that Ross students love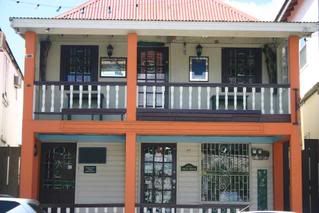 Random buildings downtown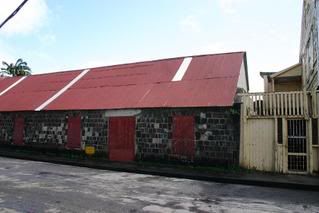 Independence Square and the Catholic Church there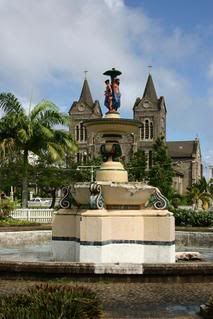 The taxi stand and farmers market near the water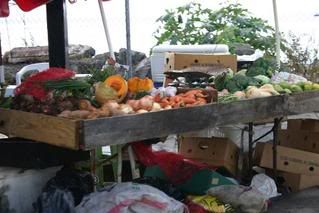 Ha ha ha...our price of gas (that is in EC dollars. It is now up around $13 a gallon, which is almost $5 US!!!)
And finally, me drinking and driving...with my freshly cut coconut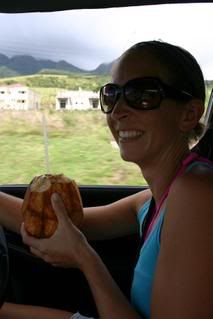 I think she really enjoyed her time here, and is hoping to come back and visit one more time before we move at the end of the year. And I hope she is able to come back, because we had fun together, and this island still has more to offer!