It's Christmas break! Cory finally finished all of his final exams (he got an A in every class....a 4.0!!!), and now he gets 3 weeks off for Christmas break. Since we are staying on St. Kitts over break, we decided we would make some money and watch people's pets over the holidays while they were off-island. Cory also volunteered to help take care of the animals at the zoo downtown AND the birds at the Ross University aviary a couple days over the break as well. So as you can probably guess, we have been quite busy.
Here is an example of what our schedule looked like on December 23rd:
Visit 7 eight week old puppies and their mom first thing in the morning, cleaning up lots of poop and letting them outside for exercise, having them climb all over us with their sharp little claws
(if we could have a dog right now, this is the one I would pick...she is so sweet!)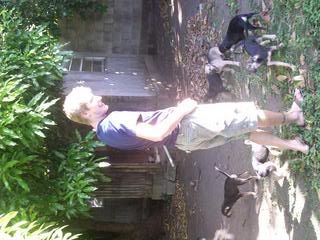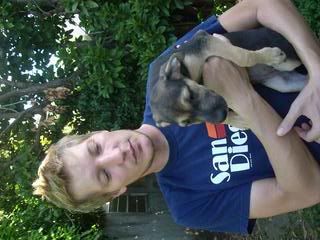 Next we visited 4 large dogs (Casey, Ace, Onyx & Chavez) and 1 cat (Charlie Brown) at another house nearby, letting them out to run around and wrestle
Then we visited 3 kittens (Matti, Nyxxie and Fiona) we are watching, giving them some attention and playtime
Then, we went downtown to a makeshift little "zoo" where Ross students volunteer to care for the animals. We cleaned out all of the food and water bowls for all of the animals, including monkeys, tortoises, an iguana, doves, chickens, guinea hens, ducks, a peacock, and a very angry goose. Then we fed them all sorts of good food that we had picked up at the grocery store for them.
(I didn't get any pictures because the guy who owns the zoo doesn't allow pictures...I had to sneak my camera out for a sec just to get the short video below)
This is the guy who owns the zoo...he is cutting open some coconuts for us for Christmas so we can drink the milk
Then, we went to Cory's campus to visit the bird aviary. We swept out the cages and cleaned all of the food and water bowls for all of the birds, including Amazon parrots, love birds, parakeets and cockatiels.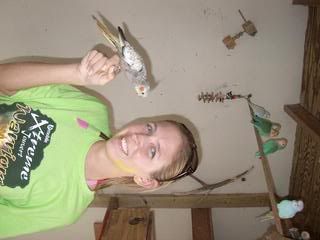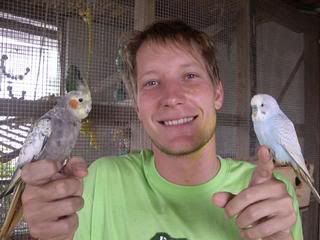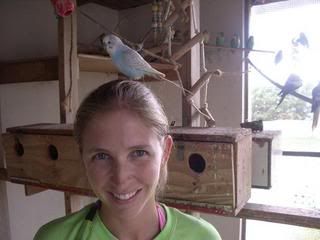 (Don't worry, the yellow on our faces is paint from Carnival, not bird poop)
Then, after a very short rest at home.....it was back to the puppies again, back to the large dogs, and back to the kittens for their evening visits.
Whew!! What a lot of work.... thankfully, all of Cory's volunteer obligations happened to all fall on the same day just twice during the whole break.
Besides taking care of every animal on St. Kitts, we have also had some time to relax a bit as well. We had very nice Christmas Eve....enjoying the 87 degree weather while sunbathing, swimming and snorkeling in the Caribbean!! Very different from what we are used to, but nothing to complain about!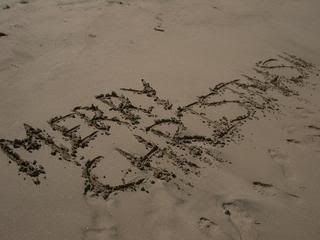 This is how we spent our Christmas!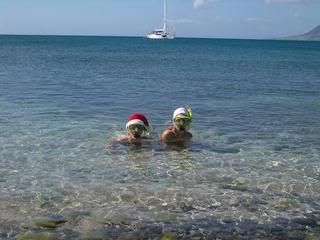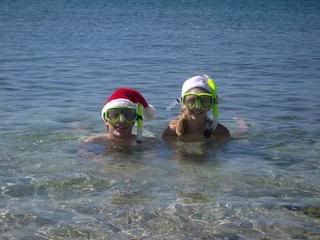 Can't beat the views!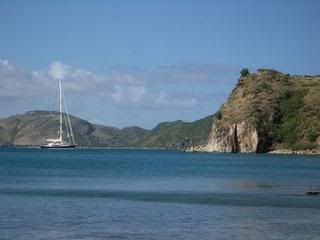 Me and Teresa enjoying the sun and warm water
After all of the fun in the sun, we met Holly, Brian and Joleigh for dinner at a restaurant called Jasmines inside the Frigate Bay Resort. We were the only people in the whole restaurant at first, so they seated us right next to a live Christmas tree. The smell was AMAZING! There's nothing like the smell of a fresh Christmas tree to make it really feel like Christmas!
Joleigh was so cute in a santa hat!
Finally, we got home, talked to family on the phone and listened to them opening presents, then opened a few presents of our own. Here is Cory opening a Christmas tree ornament from his Mom, it is Santa laying in a beach chair wearing board shorts.
Then on Christmas day, we were invited to Tregenza's family's home for Christmas dinner. Tregenza is my co-worker at my new job, we have the same position and were interviewed and hired at the same time. Treg and his family live in a town called Sandy Point, which is very close to the Brimstone Fortress.
Here is the street where his mother lives...the large hill in the background is where the Brimstone Fortress is located
And here we are at Treg's aunt's house, enjoying our enormous plates of food with Treg and his nephews
After eating, we all went out into the side yard of the house, and they showed us how to play cricket. Here are some shots of Treg's aunt and his nephew taking turns at bat
And here is a quick video of the cricket madness
Coming soon....pictures and lots of video from Carnival!!!