Last night was the Ross University Awards Ceremony, which is held at the end of each semester. There are two awards that are given to two people from each semester, then a few group awards, and finally awards and scholarships for 7th semester students who are about to leave the island.
The awards given out to two people from each semester include the Colleague Award and the Semester Achievement Award. The Colleague Award is voted on by students, and they choose which student they would most like to work with in their professional career. This award was given to Claude, who is the president of Cory's class and a really nice guy.
The second award, the Semester Achievement, is voted on by faculty, and given to a student who demonstrates strong academic achievement, professionalism, and good attitude. And guess who got this one........Cory!
This was quite an achievement, considering Cory was chosen from 123 classmates, the largest class Ross has ever had.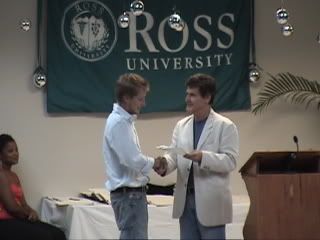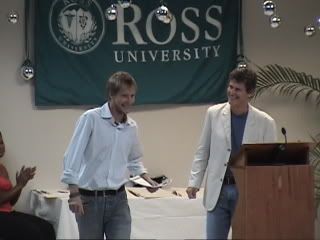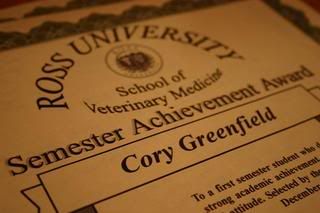 After all of the semester awards were handed out, they moved on to group awards. For the first time ever, they decided to give an Anatomy I Team Award. This award was presented to a team of students in Gross Anatomy I judged to be the most professional in their manner and concern in Gross Anatomy Lab. And this time, out of 40 lab groups, Cory, Brad and Jen were the recipients.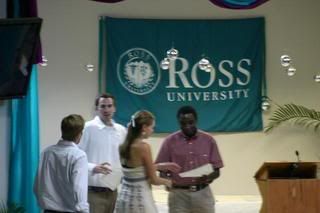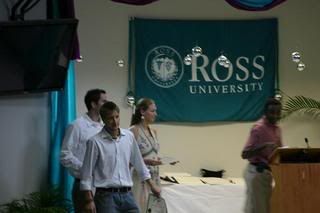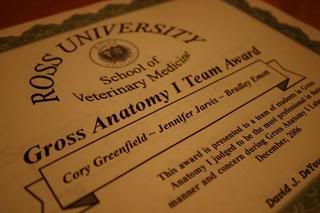 I was so proud of Cory for receiving two awards. He has been working really hard, and it was nice to see him get recognition for it. Good job Cory!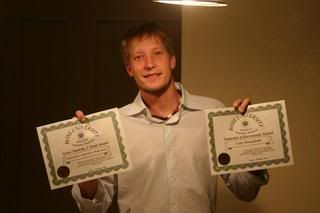 If you would like to see video highlights of the night, check it out:
(this video is the reason it took so long to post all of this....it took some major geeky computer work!)