When we arrived on the island, Cory had an entire week of orientation activities to do through his school. The week mostly consisted of setting up utilities, purchasing a car, picking up school books, stuff like that. But there were a few fun activities as well, like a picnic up at the Brimstone Hill Fortress, and a catamaran trip to the neighboring island of Nevis (pronounced Neevis). Since his class is so large, they had to split up the catamaran trip into a Friday and a Saturday group. Our orientation group, along with the majority of our friends all decided that we would go on Saturday. On Friday, it was gorgeous. Sunny, warm...a perfect day for the trip. Our roommate Brooke went on Friday, and came back telling us that the trip was amazing. There had been two boats total. They had sailed out along St. Kitts, stopped at a remote location to snorkle, and had an awesome lunch right on the beach on Nevis. We couldn't wait to go the next day...
Saturday morning, I wake up around 6am to the sound of thunder and pouring rain. Then about an hour later we got the call....the trip was cancelled. We were SO bummed. We wondered if it would get rescheduled, but rumors swirled among Cory's classmates that it would not. We were definitely jealous of the students that had the opportunity to go.
Then, just last week, we received word that it
was
rescheduled, for Saturday the 23rd. We were so excited!!
So yesterday, we finally got our chance to go on the catamaran trip....and we couldn't have asked for a nicer day. We met at the port in downtown Basseterre, and we were surprised at the number of people who had shown up....not even half of the people who had missed the original trip. So our entire group of about 30 people, including some faculty and staff, fit on one boat. It was nice having such a small group.
The name of our boat was the Irie Lime. Our captain explained the meaning of the name: "Irie means good times/everything is cool, and lime means to hang out/chill." Didn't sound like a bad name to us! The catamaran was a good size, apparently they can hold up to 100 people!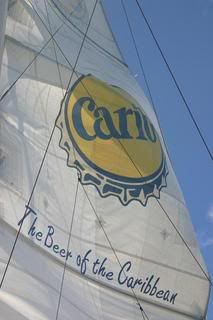 Here is the view of downtown as we pull out of the harbor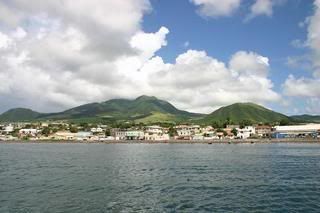 We could even see our apartment from the harbor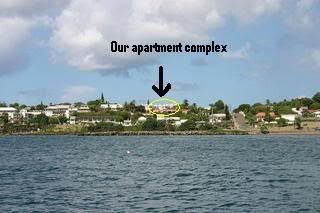 The catamaran had two large nets at the bow, and we were told that each net could hold 8 people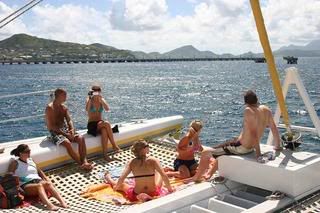 We took full advantage of those nets!
Not only did we have a great spot for sunbathing, but we had one of the best views on the entire boat
We sailed along St. Kitts for awhile, and stopped to snorkle at a gorgeous spot right before we got to the end of the island.
This snorkle spot was only accessible by water, and the water was amazingly clear.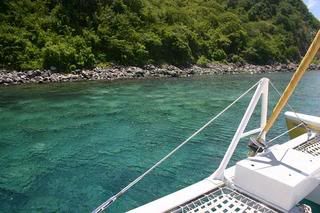 We saw lots of tropical fish, and there were giant sea urchins everywhere! Two of the highlights of the snorkling were a giant purple moon jellyfish, and a group of Caribbean Reef Squid. I didn't take these pictures, just wanted you to be able to get an idea of what we saw....
This is kind of what the jellyfish looked like, it was pretty big, and more purple than the one in this picture:
The Caribbean Reef Squid were also really cool. You could float right above them, and they wouldn't get scared away, they just kind of stared at you. Again, I didn't take this picture, but this is just what they looked like: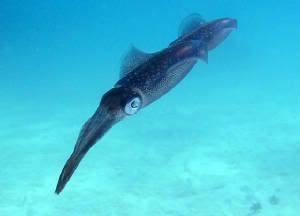 After we finished snorkling, we continued heading towards Nevis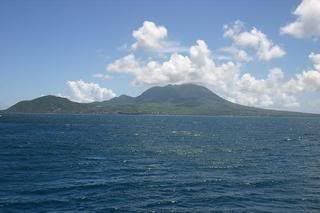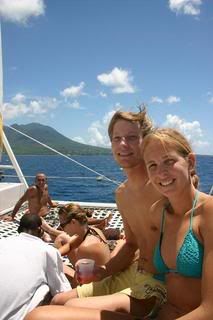 We were expecting the boat to pull up to a dock or harbor somewhere, but we went right up to the beach
Under this shady grove of trees, there was a great lunch waiting for us
This was our view as we ate under the trees
Our boat sat out in the Caribbean while we enjoyed Nevis
We hiked along the shore for awhile, finding some really scenic spots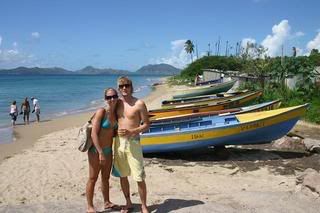 (This picture below is one of my favorite pictures of the day)
While we have the Marriott on St. Kitts, Nevis has The Four Seasons resort. It was a pretty amazing place, I think it has our Marriott beat.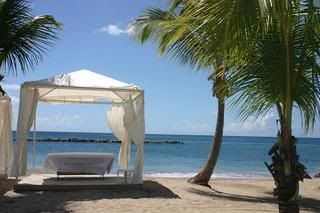 We met some cute little boys that lived nearby and were playing in the water. They wanted me to take a picture of them, and they got a kick out of seeing the picture right away when I showed them the digital image.
We also walked the other way down the beach away from the resort, and Cory and I found a cute little spot with grass huts
This beach was the most beautiful beach I have ever seen in person...I couldn't stop taking pictures!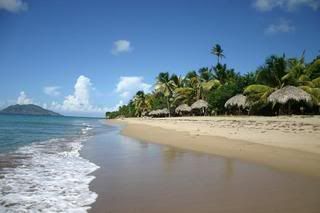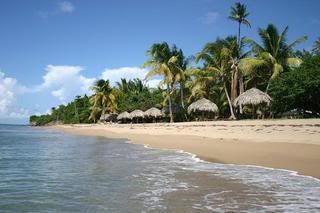 So that was our catamaran trip to Nevis. Pretty sweet, huh? We loved it.