This is the view as you drive out towards the southeast end of the island. While the larger half of the island is home to mountains, rainforests and small villages, the smaller end of the island is a little more remote, and home to some great beaches.
If you want to visit Gong Beach, you have to be ready for some off-roading....most beaches here require a trip down a bumpy, rocky dirt road. If you didn't know where you were going, it would be easy to miss either of the 2 small roads that lead to this remote beach. We went there about 2 weeks ago with two of Cory's classmates from school, and two couples who we also met through school. Around here, you can usually park anywhere you want, and the beach roads are no exception: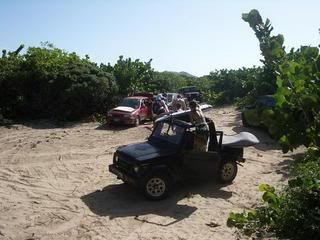 Once we parked, we climbed a sandy hill to access the beach, and the view as we came to the top was beautiful.
Besides two other Ross students who were there walking their dogs, we had the entire beach to ourselves!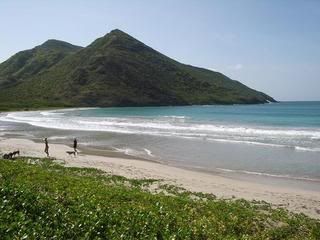 We were told that the waves at this beach were usually not very big, but that we had come during a swell, so they weren't bad for surfing. Cory's friend Anthony happened to have an extra board with him, and the two of them went out to enjoy the waves.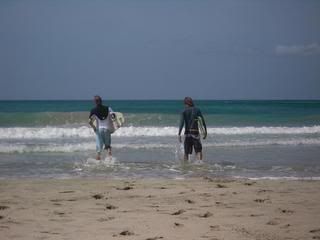 Another great beach for surfing during a good swell is called Keys. Unlike Gong Beach, it is located on the larger half of the island, north of the capital and the airport. At this beach, we were the only people there.
Anthony was there with an extra surfboard as well, so of course those two were in the water catching waves.