The island of St. Kitts doesn't celebrate Halloween. Some stores sell a very small selection of basic costumes, but kids don't dress up, and they don't go trick-or-treating. So, the students at Ross tend to have their own Halloween parties, and one of those was at our house.
Some people were thinking ahead when they moved down here and brought nice costumes from home. Others, like Cory and I, put them together in about 5 minutes using whatever we could find around the house. But they did the job, and a good time was had by all.
Cory was a mummy
And I was a martini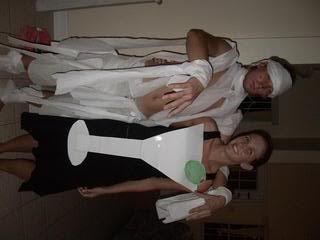 Christina was Alice in Wonderland, Bernie was a ref, and Leigh was a cat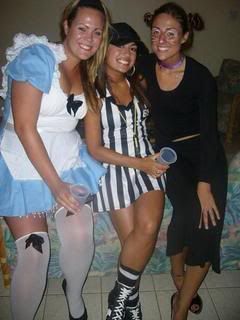 I loved Leigh's Ross collar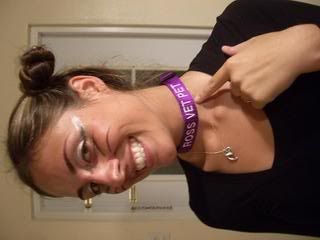 Melissa was a pregnant Britney Spears, while Jon was Kevin Federline
Me and Brooke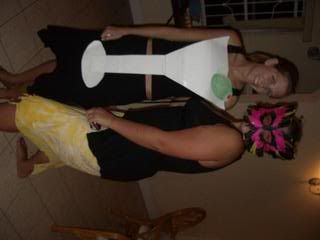 And the best costumes of the night, Renee as Smurfette and Kevin as Papa Smurf
The whole group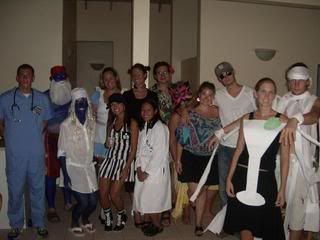 And then there was the piñata that would not die.......
Brooke bought a piñata for the party, since it was not only Halloween, but Renee's birthday as well.
First Renee got a few good swings
Then Bernie hit it pretty hard a few times and caused a dent
Then Leigh dented it again, didn't break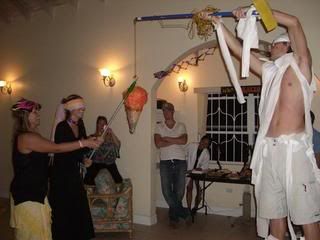 Christina hit it, more dents, still no candy
Justin swung as hard as he could, and the force didn't break the piñata, it broke our makeshift bat instead!!!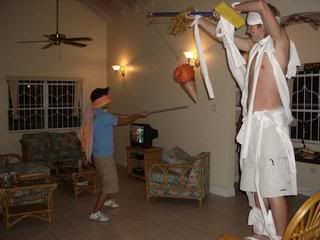 Since this thing seemed impossible to break open, they let Cory swing at it without a blindfold so he could swing as hard as he could....AND IT STILL DIDN'T BREAK!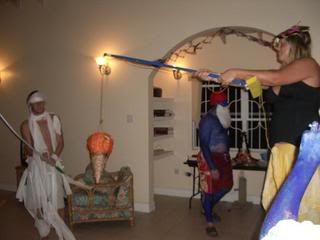 Finally, we pulled out the biggest kitchen knife we had to stab it to death and get the candy out
Can you even guess what happened next?........the evil piñata BROKE THE KNIFE!! You can see the blade of the knife broken off and sticking out of the haunted piñata!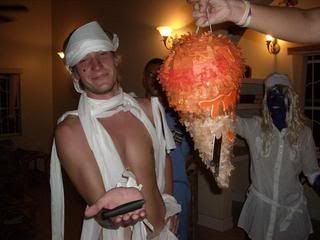 Finally, after Brooke had to physically saw open the piñata with the broken knife, everyone got their candy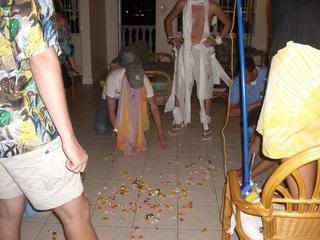 We hope everyone had a fun Halloween back in the US! Can't wait to see some pictures!