The Ocean Terrace Inn is a nice hotel just across the street from us, and a few houses down. Cory's parents are coming to visit us in late February, and this is the hotel where they will be staying. It will be nice having them so close, it will be a short 4 minute walk from their hotel room to our front door. They wanted us to check the place out before they booked the trip, so we took a walk over to the hotel and took a few pictures for them. And here they are:
The resort is situated on the hillside, so it is made up of a few different levels. This picture is from near the top, where the lobby and restaurant are located. It looks out over the first pool you come across (which has a swim-up bar), and out to Basseterre Bay and downtown.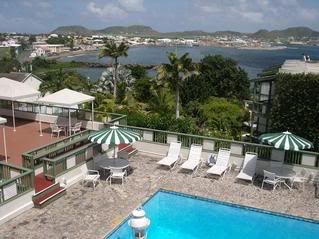 As you continue down to the next level, you come across another pool, but this one is amazing. I believe they call this pool the "fantasy pool". Ooohhh, exciting! Notice another swim-up bar on the left side of the photo: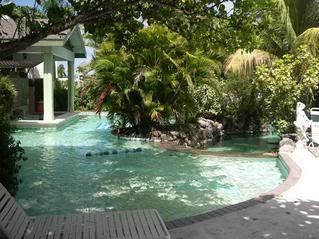 The pool also has lots of levels and waterfalls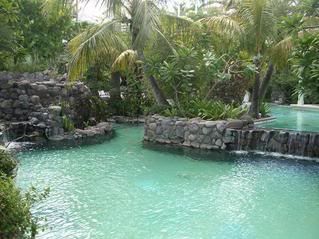 And when you finally get down to the last level, guess what you find.....another pool of course!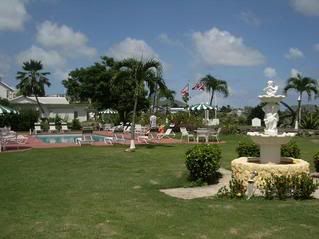 So Marlin and Judi, I hope this gives you a good idea of where you will be staying. Sorry, didn't take any pictures of the rooms, but I figured you wouldn't be spending much time in there anyway! Can't wait for February!!