A couple weeks ago, we were invited to our friends' apartment in Frigate Bay for a Mexican food dinner and cake to celebrate Justin's birthday. A bunch of our friends live in this enormous house that overlooks Timothy Beach in Frigate Bay. The owners of the house live on the top floor, and the rest of the place is divided into smaller apartments. Check out their amazing view: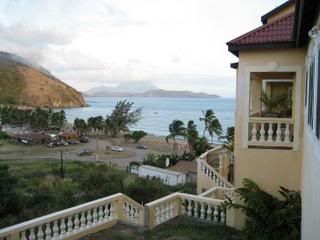 There was a fire across the way on a hill by the water, and we had a great view of it from their place.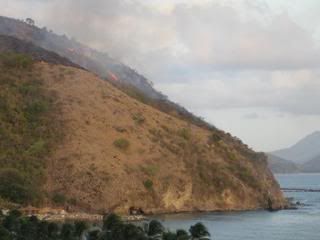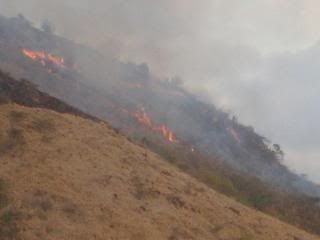 Dinner was amazing, we had huge burritos that were just stuffed with food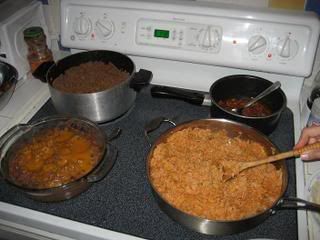 Here is the birthday boy helping himself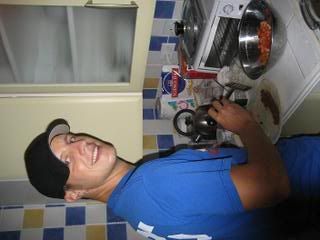 Then for dessert, they had made him a cake that was shaped like his cat, Nyxxie. See the resemblence?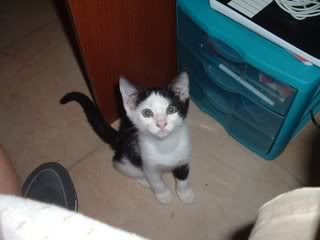 Aren't we all amazing singers?
After dinner, everyone played a round of the card game Spoons. They got really into it, and it was pretty funny. Why they are singing that song while they are playing Spoons you ask?? No idea......
While we were having our fun downstairs, the owners of the building were having a huge party upstairs at their house. They invited all of us up, and offered us drinks and food. (Our burritos were really good, but they had some amazing food up there! Too bad I was so full already!).
They were also playing a betting game that ended up being a lot of fun. They had made 6 wooden cut-outs that looked like horse heads. Each horse was assigned to a girl, and they had to go to one end of the balcony at the starting line. Before the start of the race, you could bet on whichever horse you wanted to win (bets were $2EC, just under $1US). Then, once all of the bets were in, they would roll two dice. The first number signified which horse would get to move, and the next number rolled signified how many spaces they got to move.
Here are all of the horses lined up for the start of the race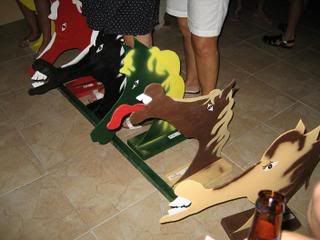 And here are the girls with the horses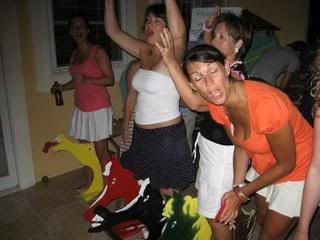 Cory and I actually walked away with more money than we came with (even if that meant we were only up $2EC....we were still up!)
Happy Birthday Justin!