The other day as I was walking back home to the Residence Halls from Ross, I saw a huge rainbow out on the water next to the peninsula, with Nevis in the background. I tried to take a few pictures, but they still don't do the rainbow justice.
And speaking of rainbow colors, a few weekends ago, Cory and I went to Shipwreck for some drinks, lunch, and study time for Cory.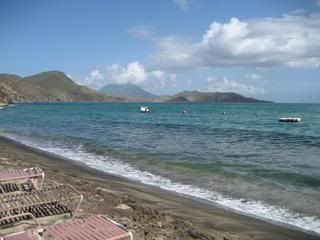 I wanted to try something different, and ordered one of their specialty drinks from a small menu hanging up. This is what I got:
Pretty, huh? It's called the Green Flash, and like the bartender warned me, it's all alcohol except for a splash of pineapple juice. Very strong, but still pretty good.