After the craziness of orientation and the opening of the new Campus Living Residences at Ross had settled down a bit, the Dean of Student Affairs, Dr. Fox, took Keith, Treg and I to dinner at Marshall's to say thank you for all of our hard work. Marshall's is a really fancy place in Frigate Bay that has the best food. I had the filet with mashed potatoes, and espresso khalua cake for dessert!
This place is amazing. It is on a hillside overlooking the Caribbean...
...and has a huge pool in the middle of the restaurant (Treg decided he wanted to be in this picture)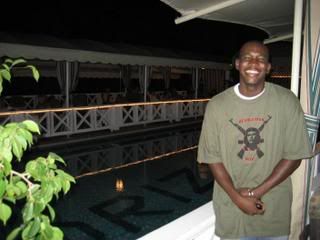 Marlin and Judi, I think of you guys every time I go to Marshall's now, because I know it is a place you would just love! We'll put it on your list for your next visit!