Cory and I were watching E! News tonight, waiting for The Office to come on, and we saw a story about actress Jordana Brewster getting married over the weekend. We were only really half paying attention until we heard where the wedding was held....on Nevis, the sister island of St. Kitts! We were there at almost the same time for the catamaran trip this past weekend.
Nevis is a tiny place, but apparently it draws a lot of celebrities since it is so quiet. People like Matthew McConaughey and Oprah visit Nevis all the time. Check out the story below:
Actress Jordana Brewster Marries Movie Producer
WEDNESDAY MAY 09, 2007 06:00 PM EDT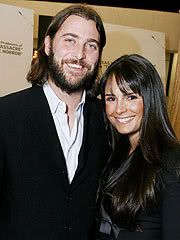 Jordana Brewster of The Fast and the Furious and producer Andrew Form were married over the weekend in the Caribbean, her rep tells PEOPLE.
Brewster, 27, wore a Vera Wang dress in Sunday's
private ceremony on Nevis Island
.
The couple met in 2005 when she was shooting The Texas Chainsaw Massacre: The Beginning. Form, 38, was one of the producers.
Form proposed on their one-year anniversary, giving her a 3.2-carat emerald-cut diamond and platinum ring.
Brewster, who also starred in 2006's Annapolis, will next play the lead in the pilot of Mr. & Mrs. Smith, a TV adaptation of the 2005 Brad Pitt and Angelina Jolie film.