The second dive site we visited is called River Taw. It is named for a ship called the River Taw, which sank there during a hurricane in 1980. It is also rated by Skin Diver Magazine as one of the Top 20 wrecks in the Caribbean.
There is also a sunken bulldozer and VW bus, but we didn't get to see those on this trip. Maybe next time...
First, we worked on a few skills before we explored
As we knelt on the bottom, the fish swarmed around us. The fish here are used to getting fed by divers, so they are not shy about getting close. It was awesome!
And of course we fed the fish too, just like they were expecting
Here is a large trunk fish
Finally, we get to the wreck!
Parrot fish
This lobster didn't budge when I got close to take a picture...that's how you get eaten buddy!
Not sure what this creature is, but it pulled it's tentacles back in when Vajai touched it
More pictures of the wreck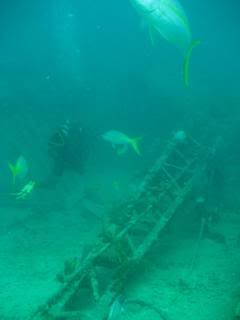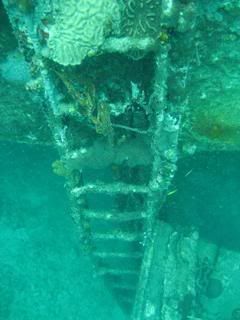 Vajai let us swim through part of it! There goes Cory...
And I followed taking video
Being up at the bow of the boat was really cool.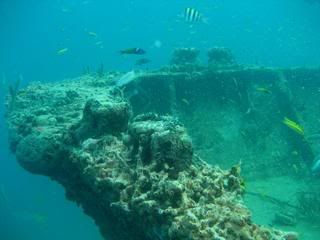 You could see where they used to hoist up the anchor
And of course, we couldn't leave without doing a Titanic reference....
One of the highlights of this dive was seeing an eel!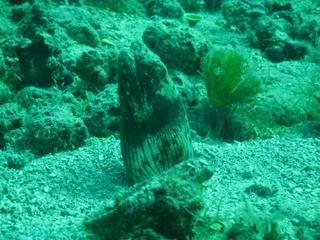 I was kind of scared of the eel, but Cory didn't mind being a little closer and pretending to pet it on the head
We loved this dive site, and we can't wait to come back again and check out the VW bus! Our next and last ocean dive to complete our certification is tomorrow (Wednesday) afternoon. We aren't sure where we are going yet, but we can't wait!
Oh yeah, and here is a link to the website for the dive shop we are going through to get certified: Kenneth's Dive Center,
www.kennethdivecenter.com