Since Cory and I don't have Lladra here with us anymore (she moved back to the US to live with Cory's brother until we move back as well), we needed something to take care of! We were on our way out to the beach one weekend, and we saw two ladies on the side of the road with a truck bed full of plants for sale. So we stopped, and purchased two plants from them. One big one for our apartment, and I bought a little one for my office.
Here is Cory re-potting the big one. It is pretty cool, it is green, red, orange and yellow, and the leaves all twist around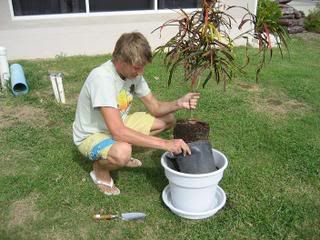 And here is my little pink plant, that is awaiting its turn to get re-potted. I think I'll name her Margot.