For Cory's birthday last March, my gift to him was getting scuba certified. (Since I didn't have a physical gift to give him at the time, I made this from a picture of us swimming in the pool):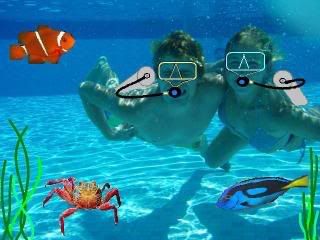 Since March, things have come up, we've gone home on trips, etc....many things kept us from getting started. But we finally went down to the dive shop last week and signed up, and our first confined water dive was on Wednesday.
Our instructor came very highly recommended from friends of ours that got certified down here. His name is Vajai, and he works at Kenneth's Dive Center here on St. Kitts. He also works very closely with the Ross SCUBA Club(which we joined as well), and does a lot of group dives for them.
While he was teaching us on Wednesday, he was also training another experienced diver to become a Master Diver (the other diver is a teacher at Ross, Dr. Thierry Beths), so Dr. Beths had to be there to help train new divers as part of his own training. He was also nice enough to take some pictures for me.
We met Vajai at the Frigate Bay Resort pool, and started our first lesson. It was awesome when we first got to go underwater!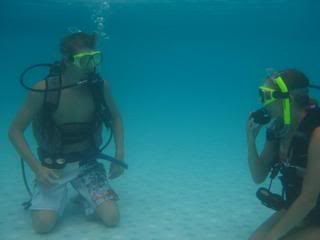 We played with an underwater torpedo for a little while, throwing it back and forth to each other while we got accustomed to breathing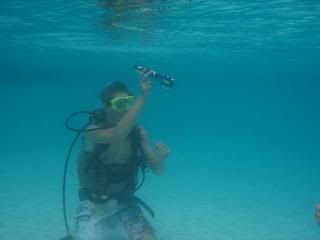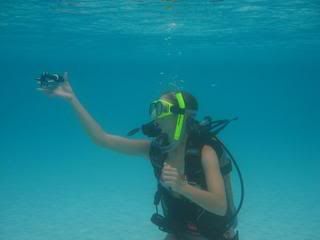 Here we are getting instructions from him above the water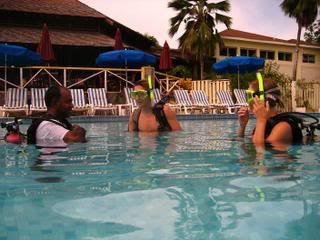 He would explain and demonstrate a skill above water, then demonstrate again underwater, then we took turns performing the skill. Here we are removing our regulators underwater, practicing in the event that it would get knocked from your mouth while diving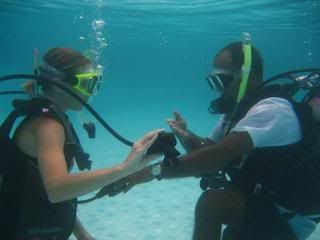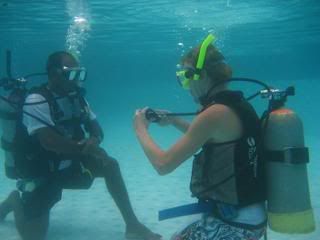 We also learned how to share air with another diver if they run out, and how to use another divers' air supply if you run out (here I am using Vajai's alternate regulator)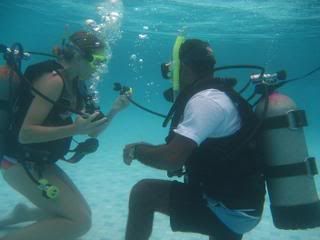 After about 3 hours of training, we were done with our first confined water dive. Vajai let us swim around the pool for fun for a little while at the end, and I took my camera along.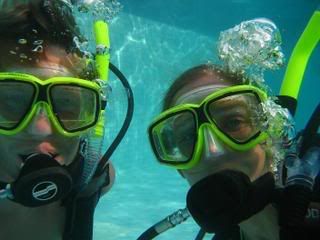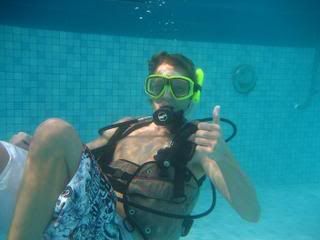 I can't wait until we get to do this out in the ocean! Our next (and last) pool dive is this Monday. After that, ocean here we come!