On Friday night, I was so excited to attend a Giants game (the Giants vs the Arizona Diamondbacks) with my good friend Jimmy. Here is the view on the Bay Bridge, driving into the city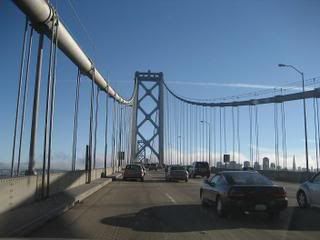 Jimmy is a season ticket holder, so anytime I know I will be visiting home, I check the Giants schedule and give him a call, hoping he will save me a seat for one game. Thanks again Jimmy! Here is the view walking up to the field
Here we are, right in front of Jimmy's seats, supporting the team with our Giants gear! By the 2nd inning, I had to go buy more Giants gear (specifically a nice warm Giants jacket) when the temperature dropped like crazy and I thought I was going to freeze to death!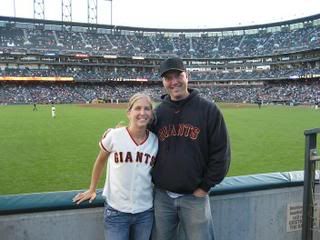 I took a few pictures as we walked around the park to the store to get my jacket. Here is the big score board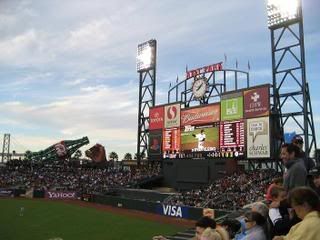 And here are the fans out in the water, waiting for a home run from Barry Bonds. There are usually more than that, but I don't blame them, it was freezing cold!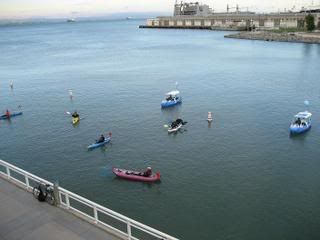 And speaking of Bonds...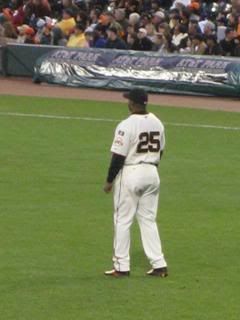 ....We got to see homerun number 750!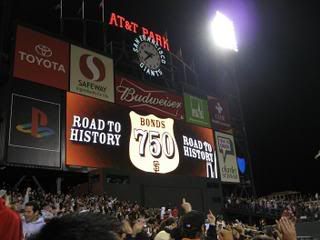 We also got to see a crazy fan run onto the field! He ran right up to Bonds, and they chatted for a second. Everyone was expecting Bonds to push him away or walk away, but we were all surprised. Bonds put his arm around the guy, and slowly walked with him to the side of the field, chatting all the way back to the waiting security guards. It was pretty funny.
I had planned on chowing down on some great ballpark food while we were there, but I was just too cold to move the entire game, so we decided to stop at In and Out Burger on the way home. Anyone who doesn't live on the west coast probably doesn't know about this place, but it is the best burger around. Yum! (and check out my new jacket!)