Tropical Storm Dean has been upgraded to Category 2 Hurricane Dean as it approaches the Caribbean. A picture that was just updated at 5pm is below. I added some info to help make things a little more clear: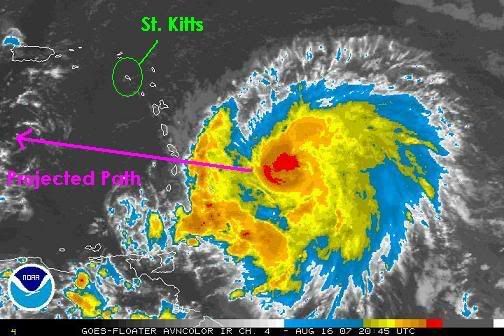 So technically, they are expecting the hurricane to go south of us. But we are still on Tropical Storm Watch, which means we will probably get Tropical Storm strength winds and rain as it passes by us.
If you want to see updated moving satellite images of the hurricane, visit this link:
Hurricane Dean satellite loop
Not much is going on right now at Ross. Finals were cancelled for tomorrow because of the expected heavy rains, which means Cory has to take his last final when he returns for school the first week in September. Other than that, we are just bracing for lots of rain and wind. We'll keep you posted....