Last weekend, we all spent the day hanging out at the Marriott.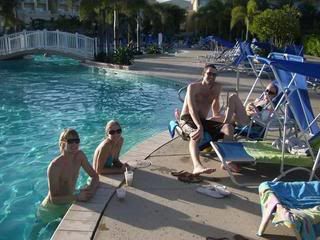 That night, Cory, Brad and Justin played in a poker tournament at the casino, while Kheli, Krista, Teresa, Kelly (Brad's visiting girlfriend) and I hung out together. While the boys got settled into their seats at the poker table, we decided to get some drinks. The other girls enjoy smoking cigars every once in awhile, so we decided to head up to the bar inside the Cigar Bar to get our drinks, so they could pick out a couple cigars as well. As we were walking up the stairs, Teresa recognized a man walking in front of us as a world famous poker player. So Krista starts talking really loud about how she wants to play some poker, but wishes someone could teach her how. The guy turns around and talks to Krista, and she pretends she doesn't know who he is. Long story short, he gets a kick out of Krista successfully bluffing him, and offers to buy our drinks and cigars. His name is Freddy Deeb. Want to check out who he is? Go to this page:
http://www.pokerpages.com/players/profiles/42579/freddie-deeb.htm
Here we are in the Cigar Bar with Freddy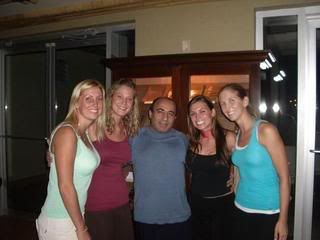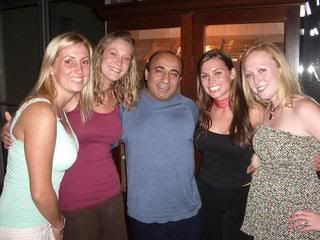 I had the best dirty martini I have ever tasted in my life!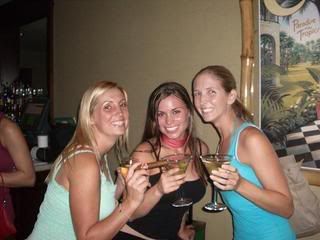 We also met his friend Casey, in the pink shirt, who owns some Poker/Blackjack magazine (can't remember the name)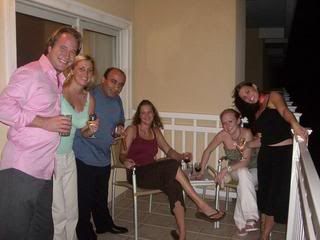 So after our long night of martinis, poker and meeting poker stars, the girls and I had a date for breakfast at Krista's house the next morning.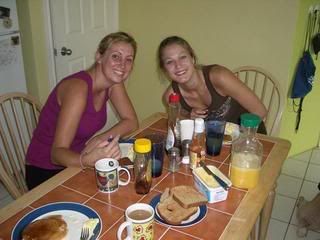 The only boys allowed?......Soto and Rockstar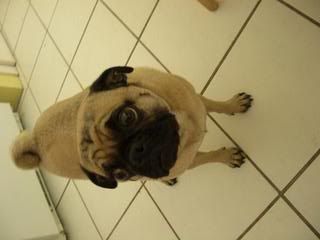 We made pancakes, eggs, toast, and Starbucks coffee....and we watched Sex in the City as we ate.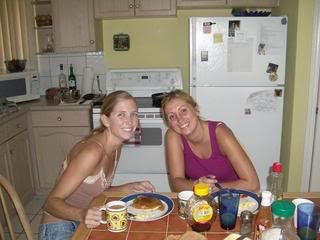 It was really good, but not quite enough to pull Krista out of bed, who wasn't feeling so hot from the night before. But her pug Rockstar was there to help make sure she was okay.
Teresa also joined her in bed to see how she was feeling
Finally, Krista felt okay to get up and eat some food. And Rockstar decided she might need some help with that as well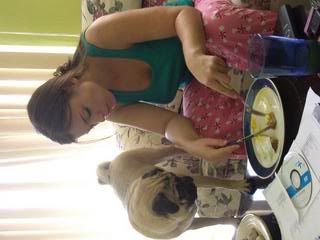 He even offered to clean her plate afterwards, so she could lie down and relax
So I'm sorry to guess that Freddy is probably the most famous person we will meet here on St. Kitts. I don't really think it is a big destination for the rich and famous, you know. Although, it is well known that Matthew McConaughey regularly visits Nevis and sometimes St. Kits...soooo, you never know!