This past week, our friend Brad's girlfriend was down here to visit him from Connecticut. Kelly flew in on Friday the 27th of October, and just left today, the 5th of November. She came to visit during their mid-semester break, a rare 3 day weekend at Ross, so she was able to spend lots of time with Brad. But as soon as school started up again on Tuesday for Brad and Cory, I had someone to hang out with!
Of course, we had to go to Brimstone Fortress. That is a must-see for anyone who comes here! (I know I've posted plenty of pics from here before, so I tried to take some new shots this time)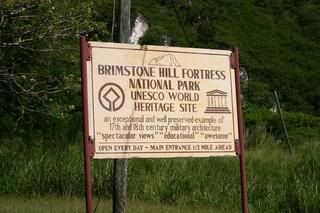 We only encountered one car on the tiny, one lane road up to the fortress, but I still listened to the signs and honked my horn every time we went around a corner
Once you make it most of the way up the mountain on the tiny road, you still have to get through tiny archways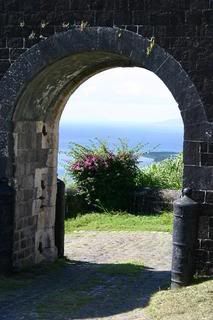 Good thing our car is small!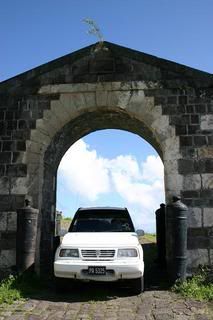 Just like the last time we went, the weather was perfect, which made for some awesome views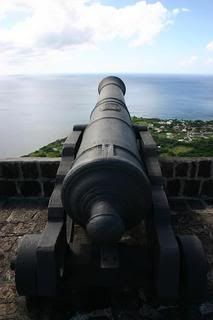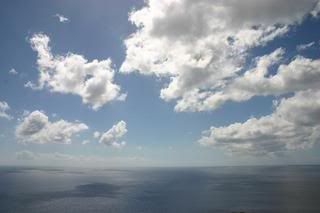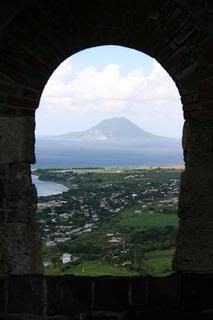 Here are Kelly and I, enjoying the view and the sun on our backs (with plenty of sunscreen of course)
On the way home, we found some cows lounging in the shade of some palm trees by the side of the road. Is it just me, or do cows and palm trees just not look right together?
Later in the week, we went to the complete opposite side of the island, and visited Turtle Beach. Of course, like always, we had to stop for the goats in the road.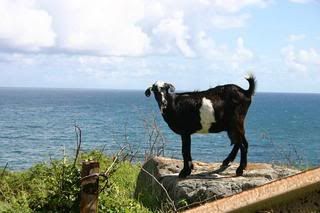 It started out a little stormy as some big rain clouds went by, but we only got a little rain until the sun came out in full force again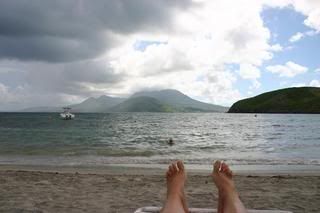 Enjoying our favorite drinks....a strawberry daiquiri for me, and a Brinley's (local St. Kitts rum) pina colada for Kelly (which actually might be my new favorite too, it was goooood!)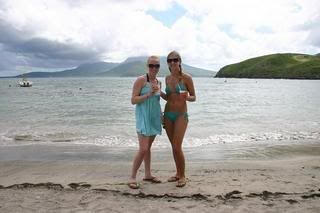 And guess who else we saw there.....no, not Matthew McConaughey.....Wilbert the pig! It turns out that he is called Wibert OR Wilbur, so either one is okay. We were a little confused before.
Reilly, this picture was taken for you, since I know how much you like Wilbert and want to meet him. (Reilly is Cory's 6 year old niece, who loves hearing stories about Wilbert the giant pig....who is actually bigger than I remember!!)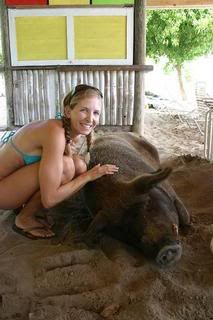 A few more shots of Turtle Beach, after the rain clouds went by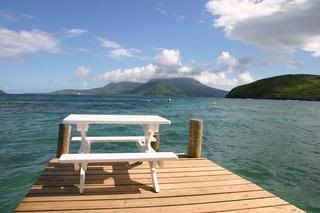 And finally, this is new to the blog. I'm going to start including videos with some of my posts, and this is the first one. One of the days Kelly was here, we went to the Marriott to lay by the pool, and it was unbelievably hot outside. All of a sudden, out of nowhere, rain starts pouring down like crazy. And here is the video I took as we debated how long we should hide under our umbrellas until we grabbed our things and ran for real cover. I know it is hard to actually see the rain, but you can see how hard it is hitting the pool, and you can definitely hear it if the volume is on.
Sorry it isn't the best quality video ever, but my camera was getting wet, so it was the best I could do.
It was a fun week, I had a lot of fun hanging out with Kelly. Thanks for the company Kelly! Come back again soon!