This week, Cory's class had 3 very difficult tests, and everyone has been busy studying, and feeling stressed and tired. They even had one of the tests on Thanksgiving, since Ross University doesn't give holidays off. So instead of having Thanksgiving dinner on Thursday, while everyone was still stressed about the test they had just taken, we waited until the next day, Friday.
Our roommate Brooke made the turkey, and everyone else who was invited brought a side dish or helped prepare them at our house. Here is the kitchen just beginning to get messy....it got much worse as the night and cooking continued
Planning out what is going in each pot, and if there will be enough room for everything on the stove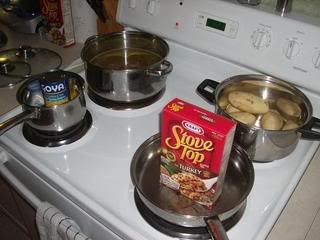 Here are Brooke and Renee taking the turkey out of the oven, and draining the juices to make the gravy
Finally, everything is coming together.....almost time to eat! We had turkey, mashed potatoes, gravy, stuffing, salad, corn, homemade noodles, green bean casserole, cranberry sauce and bread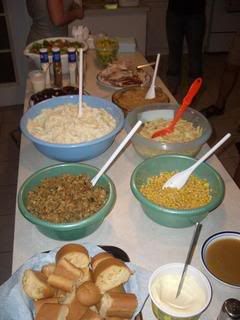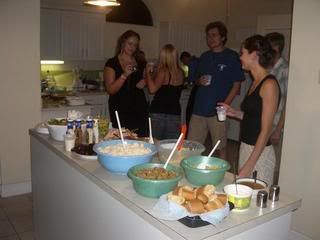 Here is a little video of the entire experience
And here is everyone enjoying their food, which was soooooo good! Even Abban tried to get in on the dinner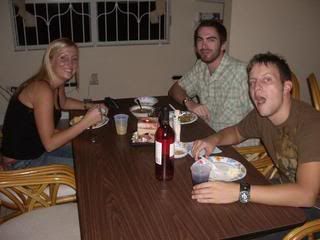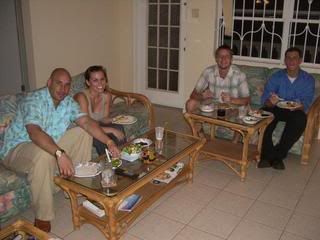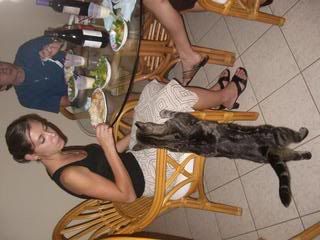 And just look at all of these desserts! We only had 12 people eating at our house, yet we had enough dessert to feed 40 people! There were two jello molds, a pumpkin roll, brownies with peanut butter frosting, a pumpkin pie, and 2 apple pies.....and everything was homemade! Yummmm!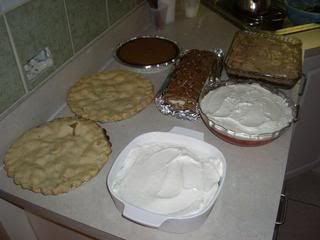 And finally, the entire Thanksgiving group
(this picture is so cute....to view a larger copy for a better look, click
HERE
)
I hope everyone else had a delicious dinner for Thanksgiving like we did! It was wonderful food....and best of all, since we hosted the dinner, we have all of the leftovers!! Yah!