As I have said in a previous post, Sundays are when Cory's team plays in the soccer league. I always come along to watch, and usually end up hanging out with Anthony. Anthony is another spouse here on the island; his girlfriend Andrea is a student at Ross, and he is the one that always goes surfing with Cory. It turns out that Anthony and I have something in common as well...both of us used to work at Starbucks in California! So we made some plans for this past Sunday's soccer game. He brought hot water, a french press and mugs, and I brought freshly ground Starbucks coffee, milk and sugar. So while the soccer team worked hard at trying to defeat the other team, Anthony and I sipped freshly brewed Starbucks coffee in the stands....
Here is Anthony checking out how the coffee is coming along
Yum.....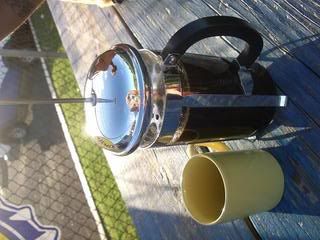 Enjoying our fresh cups of coffee. Oh yeah, and go team!
And here is a shot of Cory hanging out with Joleigh before the game. Look how cute Joleigh is with her little hat and sunglasses! She is even wearing the sandals we bought her for her birthday! And notice anything different about Cory? He chopped off a ton of his hair! I love the new look.