On the main road that we take from our apartment to Cory's school, we pass by a lot of interesting things. But one thing that I think might be my favorite is a giant resting place for half of the egrets on this island. Across the street from a little gas station/market, there are a couple of trees that a ton of egrets call home. During the day they are mostly out flying and eating, but as soon as the sun starts to set, you can find them back in these trees to rest for the evening. It is quite the sight to see, so we stopped to take some photos and video. And these don't even do it justice, you really have to be there to get the full effect.
It is difficult to see quite how many there are, but you can get an idea from the pictures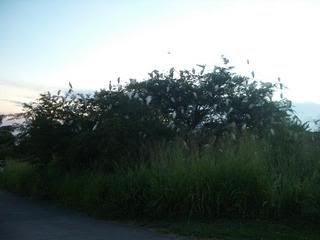 We also took a short video, because it really isn't the same seeing it without hearing it as well
It isn't the best light, because the sun is setting just behind us, but it is the best time to be there because that is when they are all returning to spend the night. Pretty crazy, huh?