As December approaches, soon it will be the end of the semester, and many students are going home for the break. And naturally, since this is a vet school, a lot of students here have pets, which need to be taken care of while their owners are visiting family in the US. Since we are staying on the island for Christmas break, we are doing alot of pet sitting, and one of our clients we are most excited about is Justin's kitten Nyxxie. She is the only pet that we are going to care for at our house instead of going to her house for visits and feeding, so we decided it would be good to bring her over to our house before then, as a practice run to see how she did around our cats.
It was very cute, all she wanted to do was chase Abban and Lladra, and try to get them to play. While Lladra would growl a bit and tend to stay away, Abban seemed a little more interested, and would sit and stare as she attempted to play. Here is a video of one such attempt.
(If you turn it up loud enough, you can hear Nyxxie making little chirping noises at Abban)
Nyxxie ended up spending the night, and crawling all over our faces as we slept every 5 minutes while she attempted to remove my earrings with her teeth. It was a night of little sleep, but it was also fun having a little kitten in the house. After bringing her back home to dad, we hung out with Brad and Justin for awhile.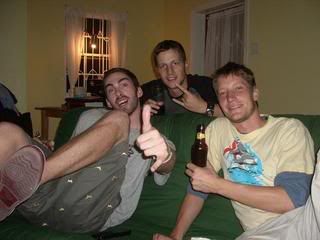 Then we headed out to dinner at a place none of us had visited yet. The restaurant is called Ballahoo, and it is located in the Circus, the large section of downtown with the roundabout and large clock tower. It is actually on the second floor, so it gives you a nice view looking down into the main section of downtown
We also got to see a small band go by below us, as they practiced for carnival
And the dinner was great!